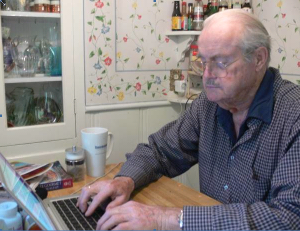 I met and got to know Jerry Pournelle — and his sweet wife Roberta — over 30 years ago, when I started writing for BYTE Magazine. I already knew of Jerry because of his SF novels ("Lucifer's Hammer" by him and Larry Niven remains my favorite end-of-the-world-as-we-know-it book) and his writings in BYTE. What I didn't know and appreciate until I started spending time with him was what a true polymath he was. Besides being an Army vet (Korean War) and having a BS/MS in psychology and an PhD in political science, he also had a significant influence in top US government circles during the 1980s. He read deeply and widely in a vast number of disciplines and put them together in ways that few people I knew did.
I also learned very quickly that if I was going to argue with Jerry, I better have my facts straight and my ducks in a row. He had a tremendous memory for facts and a deep understanding of history. He also didn't suffer fools gladly, and it was very easy to end up looking like a fool (often with good reason) when trying to debate Jerry.
Jerry and Roberta were kind enough to welcome Sandra and me into their home on occasions when work or vacation would bring us to LA, and they returned the favor on a few occasions while we lived in San Diego.
(On one such visit over 20 years ago, he wanted to look at something in the night sky. He jumped up and went out our sliding glass door to our darkened back yard, eyes focused on the heavens, and walked straight into our pool. He took it with remarkably good humor as we rushed to find towels to dry himself off with. I kept thinking, "Great — I'm going to go down in history as the person who killed Jerry Pournelle with pneumonia.")
Jerry's most lasting impression on me — and the one behind my own writing efforts for the last several years — has been his sheer will power and work ethic. About a decade ago, he was diagnosed with a brain tumor and underwent radiation therapy. He kept blogging through all that, with frank admissions of the impact it was having on his ability to think and write, and then started working on novels and stories again. Then a few years ago, he suffered a stroke, but did exactly the same thing — blogged during his therapy and recovery and started writing again as soon as possible. Keep in mind he was 75 when he suffered the brain tumor and 81 when he had the stroke. His sheer tenacity was, for me, awe-inspiring. He was and is truly my real-life "Your argument is invalid" meme.
Ah, Jerry, the world is a less interesting place without you. But I now know to whom I will dedicate my first novel.