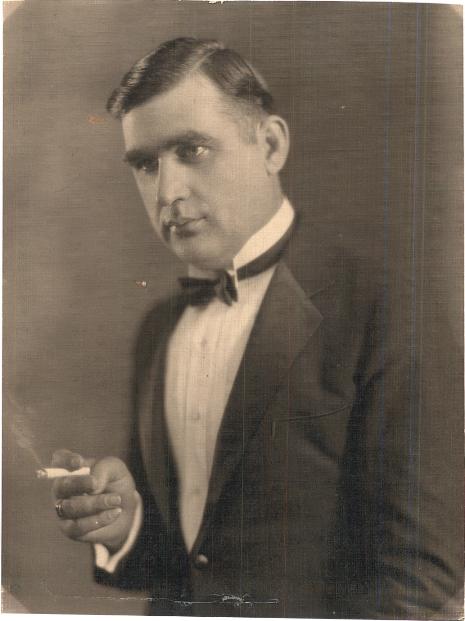 I get asked on a regular basis for the recipe for my Grandpa Jack's Mexican Beans. I have it buried in a 2006 blog post on this site, but have decided to copy it here as well, just to make it easier to point to. Much of the text is lifted verbatim from that earlier post, with a bit of editing.
My maternal grandfather, John Silas "Jack" Fickes, worked in LA law enforcement all through the 1920s and 30s. (The photo of him above is from that time period.) He had a catering business on the side; one of his partners was Juan Ramos, foreman of the Sepulveda Ranch in LA County. They would cater to political rallies, 4th of July picnics, and the like. After serving (again) in World War 2, Grandpa Jack retired, and he and Grandma Dolly moved to a ranch in Vista, California (northern San Diego County). When Grandma Dolly died in 1958, Grandpa Jack moved in with us and lived with us until he died in 1971.
Even after he came to live with us, he still liked to cook, and this was one of his recipes from his catering days. As a child and teenager, I used to help him cook; his eyesight was very bad (due to diabetes). We always had his home-made salsa on the dinner table as a condiment; he called it "sarsi" (his family background was Pennsylvania Dutch, not CalMex). And whenever we had a BBQ at home, he'd make a batch of his beans.
Here's what the finished product looks like (these were prepared, refrigerated overnight, then reheated):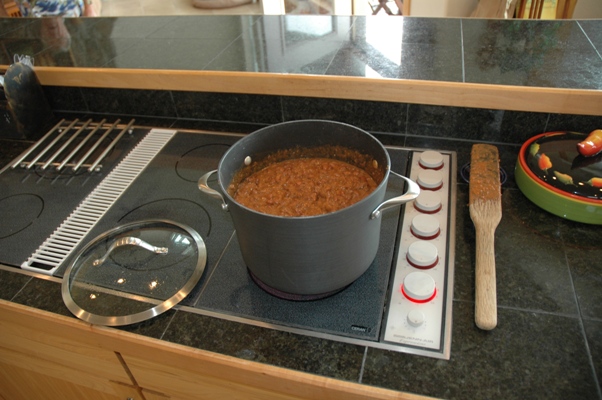 That wooden paddle is my grandfather's; he used it to cook his beans all the years he lived with us, and my mom passed it on to me about a decade ago. Like the recipe itself, it is probably close to 100 years old; I still use it every time I cook up a batch of his beans
The recipe is simple. Here's the basic proportion of ingredients; you can scale up as much as you'd like. I usually make a triple batch, which yields about two (2) gallons, then freeze it in 1/2 gallon plastic storage containers, taking each container out of the freezer as I need to. And I always have these beans on hand, either in the freezer and/or the fridge. My morning breakfast is frequently scrambled eggs on top of these beans.
Grandpa Jack's Mexican Beans (recipe)
Ingredients:
1 lb dried beans (I prefer pink or pinto, but feel free to experiment and mix).
1 lb meat: ground beef, ground pork, finely diced stew meat, finely diced pork, etc. Again, feel free to experiment or mix. I've also used diced carne asada, chopped pulled pork, chopped carnitas, spicy bulk pork sausage, sliced/diced link sausages, and others. I usually have at least two and frequently three types of meat in a given (triple) batch.
1 tablespoon pepper. (You can reduce this if the beans are too spicy for your taste.)
1 tablespoon salt.
1 lb Mexican chorizo (either beef or pork, or both). Note that chorizo tends to come in packages ranging from 8 to 12 oz, so you'll have to deal with that. (In my experience, too much is better than too little.) Also, this needs to be the 'soft' commercial chorizo (Cacique, El Mexicano, Supremo); if you buy fancy or high end/high quality chorizo, it won't dissolve but instead will cook and congeal like regular sausage.
Occasionally, I will add diced Ortega chilies, diced jalapenos, or diced Chipotle chilies (w/adobo sauce). The last ones add quite a bit of heat to the recipe, so be aware of that, too.
Directions:
Rinse the beans; put in a heavy pot, cover with a few inches of water, bring to a boil, then set aside for an hour. Bring to a gentle boil again; add the salt and pepper. Let cook for an hour or two; add water if necessary. Add the chorizo by squeezing it out of its packaging into the beans; it will dissolve in a little while; stir. Cook for another hour or so; add water as needed, but not too much. Add the meat; stir. Keep the beans at a very low boil/high simmer for several more hours, stirring often; your goal here is to reduce the liquid. If the beans still seem watery, feel free to make a cornstarch slurry and add it in.
In all this, stir the beans on a regular basis and take care not to let the beans burn on the bottom of the pot; if that does happen, do not scrape the bottom of the pot. Instead, pour the beans into another container, then scape off the bottom of the pot (into the trash), clean the pot thoroughly, put the beans back in, and continue. The goal is to neither add too much nor too little water, so that the beans have a nice, thick consistency when you are ready to serve them. They freeze well and reheat even better.
¡Buen provecho! ..bruce..
Webster is Principal and Founder at Bruce F. Webster & Associates, as well as an Adjunct Professor of Computer Science at Brigham Young University. He works with organizations to help them with troubled or failed information technology (IT) projects. He has also worked in several dozen legal cases as a consultant and as a testifying expert, both in the United States and Japan. He can be reached at bwebster@bfwa.com, or you can follow him on Twitter as @bfwebster.