Some folks know that the roots of Apple's Mac OS X lie in a company and an operating systems called NeXT. NeXT was brilliant stuff in its day, and in time Apple decided to scrap its next generation OS (Pink?) and use NeXTStep as the core for what would become OS X.
Some of us crusty old NeXT-ers (Webster is one too…) still have black NeXT boxes around our mad-scientist labs and boot them up from time to time, and cackle at how easy it used to be to change the world.
About a month ago, I got a divorce from most use of Windows XP in my daily life – that is to say I purchased a gleaming new MacPro tower with 4 Xeon cores in it. I still have to use XP for a few things (Visio) but I can now run a virtual XP session in this software called Parallels. This thing is fast! No no, I am sure you read that elsewhere… But here is the interesting bit. When NeXT was in its "brown dwarf" stage, on the way to being consumed by their famous black hole, they decided to port their OS to all manner of processors.
I was working at NeXT at the time, and it was so cool that what everyone else hoped to do one day, we could pull off with some changes to the Mach kernel and a bunch of debugging. One of the target platforms was Intel 486 and Pentium computers.
So now I have old CDs of NeXTStep Intel, and Parallels, and a "Faster Than Light" MacPro… what does an old NXHack do?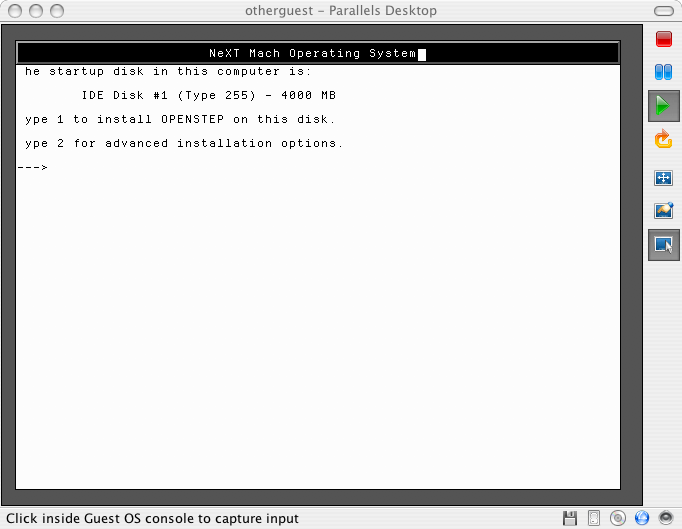 Stay tuned, i will post more as I get it working.
More after the jump
2:35 PM Update (15 minutes elapsed)
I cannot believe how easily this is going. At present we have the core Mach OS laid down on the virtual hard disk, and the drivers to get it booted. We are now installing all of the higher functions of the OS including a development environment. From the "Drivers" panel before this stage, I am pretty sure that the display drivers are going to be a problem, as are the network drivers. I will post solutions as I work them out. So far things are going very smoothly with no crashes or kernel panics.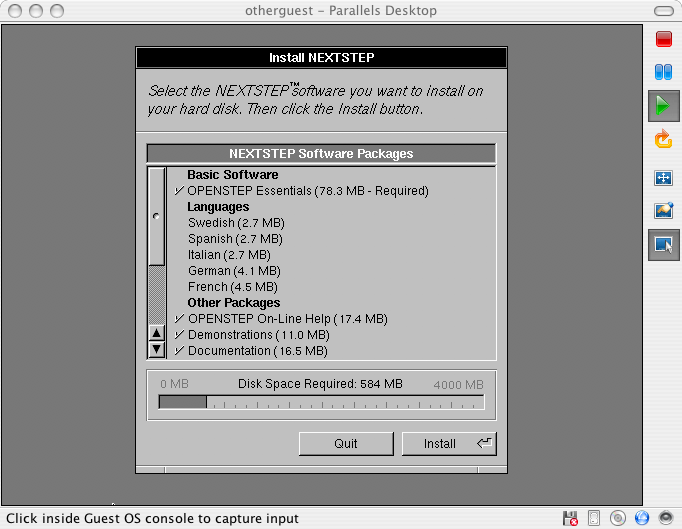 For the record I am using an OpenStep 4.2 CD set. To get the virtual machine booted I mounted floppy images in Parallels. You can download the boot and driver floppy images from Apple, but change their extension to .fdd to get Parallels to work with them. I am using Parallels build 1922 dated September 28, 2006 and it is running fast and well.
2:45 PM Update (25 minutes elapsed)
Second re-boot under way now. When it comes up I should have a minimal Openstep system running. From there it will be time to get the video and network sorted out and running. This speaks highly of the quality of both Parallels and the origial NeXT software.
2:47 Update (27 minutes elapsed)
Seems my video driver mis-step has resulted in an OS that boots to the log in screen but does not display anything.
3:26 Update (1 hour 6 minutes elapsed)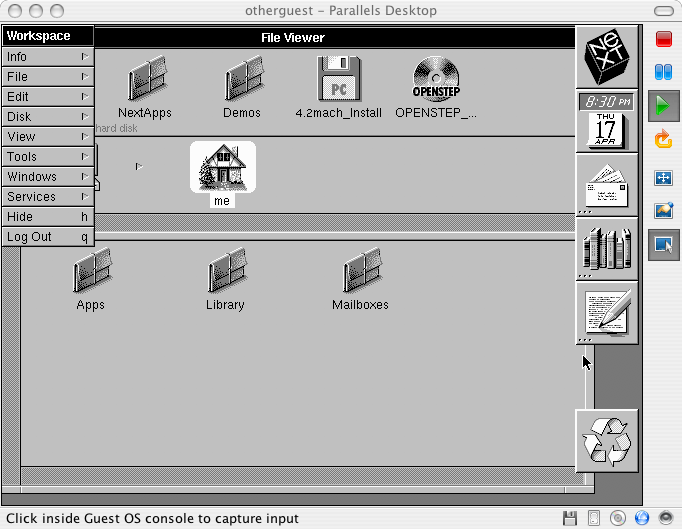 Bare bones, but 4.2 is up and running. From what I understand I have to patch this version up to V4 and then I can turn on a much more capable video driver. At this point I am guessing I can mount other Openstep disks (such as my Jazz drives that have several gigabytes of source code on them).
More as I get it working.
4:00 Update (1 hour 40 minutes elapsed)
Second time around is the charm! The magic formula was to just do a blank, generic install and then install Openstep 4.2 Patch 4. To install patch 4, I downloaded from the Apple site, then used Toast to create an ISO disk image with just that on it. I then mounted that ISO in Paralles as a CD-ROM, and inside Openstep copied it to /tmp. I opened a terminal, SU'd to root, un-tar'd it and installed. Rebooted the VM, and opened configure.app and selected VESA as the video driver, and set resolution to 1280×1024 at 32 bits, rebooted again. I was rewarded with a working Openstep desktop in all its glory. I may be kind to Webster and copy it to DVD so he can have one too in an un-corrupted state before I start my experiments.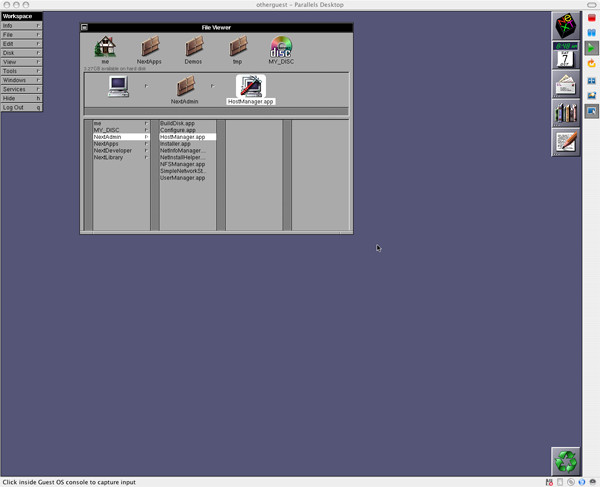 Last trick will be to install the Networking and I am golden. I figured this one would be the easiest, but being a sucker for pain I am going to try and install NextStep 3.3 or 3.2 later. I will post how it goes.
Evil Bruce
Sunday Morning Update
Neither 3.2 or 3.3 have any interst at present installing on Parallels. Common sense tells me to give up, but this is software, and I refuse to be defeated.
For my next trick I am going to take a 11 year old motherboard and attempt to make it look from a hardware standpoint a lot like the Parallels environment. This should allow me to install NextStep 3.3 and maybe 3.2 on an actual hard disk. From there I will used a bulk bit copy program to create an "image" of that disk that I installed to. From there I will create a new virtual disk under Parallels running XP (works like a champ) and then lay down that disk image (from the actual hardware NextSystem) onto the image, and see if it will boot. Chances are quite slim, but I am not interested in giving up just yet.
Sunday Noon Update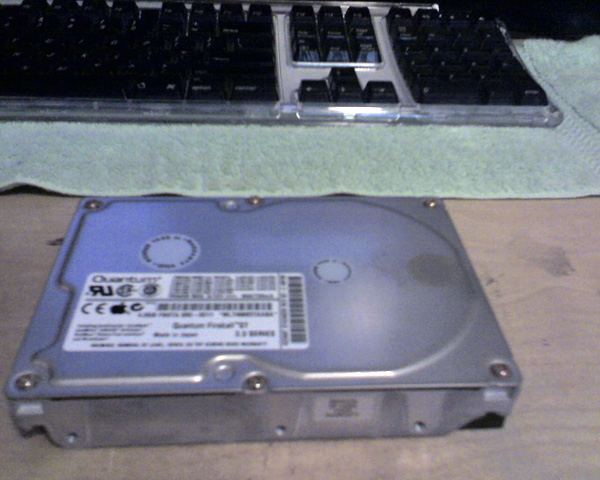 Documented proof that what should be considered trash can on rare occasions become (for a brief time) treasure. By all rights this hard disk should have been thrown out or recycled long ago. As it stands it's now a key link in my efforts to get earlier versions of NextStep running. This is a 4GB Quantum Fireball IDE hard drive, circa 1997 (I think). It has been in an anti-static bag for many years. Next stop for this old brick is to get mounted up, back up whatever was important on it (enough to save it all these years) and prepare it to be the host for my crazy attempt at install.
(Sorry for the crappy Camera-phone picture, the real camera is traveling with my wife at the moment)
Category: Information Technology, Main
Bruce Henderson is a former Marine who focuses custom data mining and visualization technologies on the economy and other disasters.