It should come as no surprise that divining and quantifying what is happening to the housing market and the connected financial systems is a topic of significant interest for me. While there is an excellent and growing suite of web sites and Blogs around that document elements of what is happening, one piece of information had been elusive – until today.
Mr. Webster is very gracious with his description of who I am and what I do. For the last couple of years myself and a small team of folks have been working to bring a new kind of software to market. In part it came from efforts inside the Intelligence Community to build tools to find bad people faster. This is usually an exercise in "connect the dots", piecing together high value information out of disparate and possibly unrelated chunks of data. We have been selling this tool kit under the name Boomerang for the last year or so, with some success.
One major component to the economy over the last few years has been housing, and housing's rapid appreciation. There is a strong suspicion that any downturn will have a large housing component as well — specifically that people will finally get to a point where they are asking so much for properties that no one can reasonably afford to buy. To see if that is happening, one has to be able to look across all of the separate multiple listing services (MLSs) and piece together a fused, national / region / state / market picture. Sounds like a job for Boomerang!
So here is our application: Hardtack National View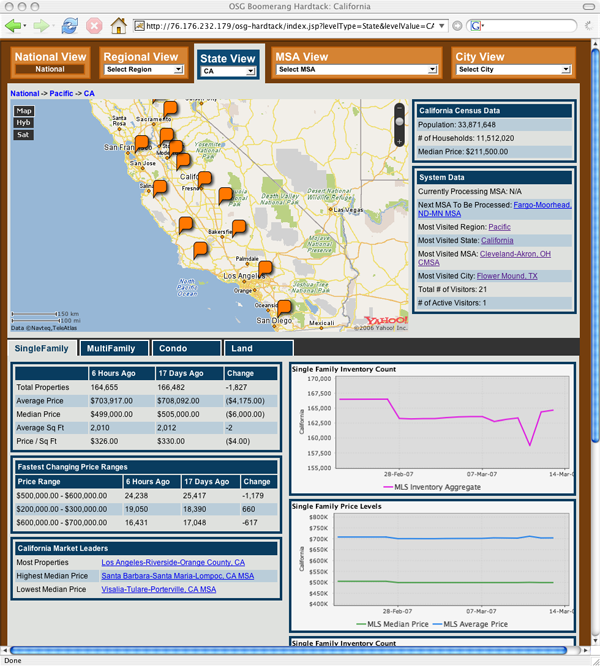 We call it (for the moment) Hardtack. Why? Well, there was a series of weapons tests in the Pacific back in the 50's where they were trying to get the design for a new type of bomb working. This includes some explosions that were significantly larger than planned, leading to very dangerous and in some cases deadly fallout. This series of tests were called "Operation Hardtack". Hence the name, as I worry the explosion in housing will lead to some rather unfortunate fallout.
How to use it:
First off, you will see the map and the pull downs across the top. Each one of the orange icons will let you "drill in" to a region or more narrow data set. Likewise you can use the pull downs to select a region, state or major city (MSA). Below you will see a set of statistics for different real estate products, as well as charts that show the progress of these key statistics over time.
Feel free to take a look around over there – coming soon will be RSS feeds that will ease the ability to subscribe to your favorite region, and Hardtack will tell you what is happening week to week in that market.
Category: Economics, Information Technology, Main, Mashups, Recession Watch
Bruce Henderson is a former Marine who focuses custom data mining and visualization technologies on the economy and other disasters.