First off, I want to strongly point out we do not know if any person or animals were injured here.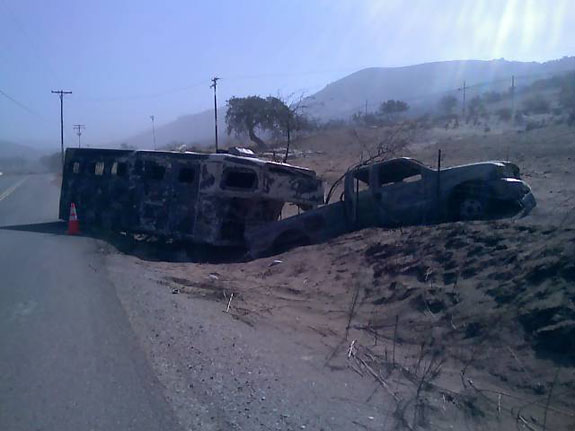 Photo credit – Reader Ebba Foster
I have commented before on the amazing level of bravery and dedication the equestrian community has here in San Diego. Several stables had to be evacuated more than once when their refuges came under threat of fire. At times I saw people with large pickups and horse trailers driving into the fire zone to pull horses and other livestock out to safety.
Someone was brave enough to drive their personal vehicle and trailer towards the fire to rescue animals, at great risk to their own person and property. Again we don't know if any people or animals were hurt as a result of this, but our heart goes out to whomever was involved, and our thanks to the folks who took chances to get animals to safety.
Category: Main, Photography, SAN DIEGO EMERGENCIES
Bruce Henderson is a former Marine who focuses custom data mining and visualization technologies on the economy and other disasters.