The Harris Fire is now 73,000 acres, suppression costs are at $2.5 million. There are 759 firefighters assigned. The fire was held at the edge of Chula Vista and Spring Valley. The returning onshore flow has moved the fire to the northeast threatening structures along Highway 94 from Jamul to the east and Jamacha to the west. Lyons Peak was burned and the fire jumped perimeter control lines in the area.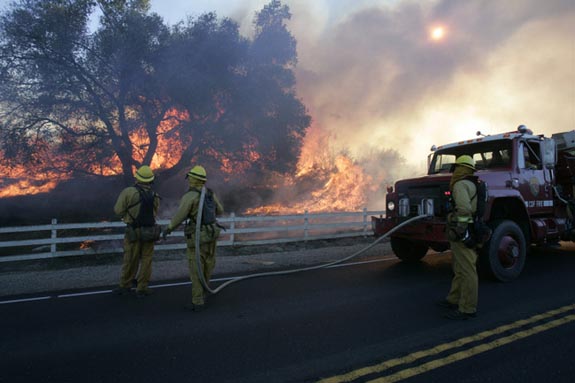 Photo credit – SD Union Tribune
At present it seems that Jamul is one of the main battlegrounds for this blaze, and multiple aircraft are assisting the ground teams to prevent Rancho Jamul Estates from being lost. On the East side of Jamul, the fire threatened homes just after sunrise today. Reports are that the wall of flame got within 50 yards of a neighborhood before the fire crews were able to stop it with with hoses and air drops.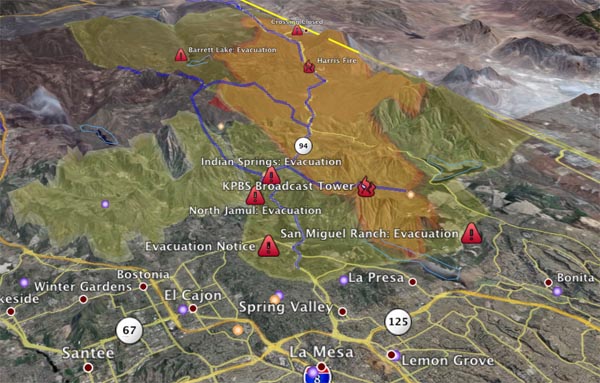 This view via Google Earth merged with the KPBS overlays. View is from the coast looking East – Southeast towards the heart of the fire. You can clearly see the darker area that is burning and the lighter area that is under evacuation.
Late word via Union Tribune: The Harris fire is flaring up in Dulzura, Deerhorn Valley, Lyons Valley, and Lawson Valley. Helicopters are heading out to the area to try to keep the fires in check, a CDF spokeswoman told KFMB-TV.
Category: Main, Maps, SAN DIEGO EMERGENCIES, San Diego Fires, Visualizations
Bruce Henderson is a former Marine who focuses custom data mining and visualization technologies on the economy and other disasters.