Word comes again from the Union Tribune on the valiant fight to save the top of Palomar Mountain. Palomar Mountain is home to the famous 200 inch Hale Telescope, but it is also home to some 200 or so residents and a very nice state park and camp ground.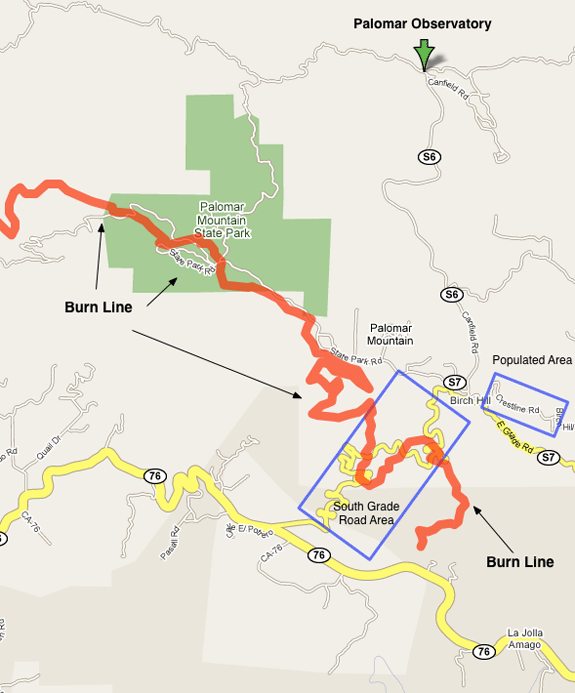 Note: This map was made using the IR data mentioned in earlier posts.
From the UT:
The top of Palomar Mountain hasn't burned in recorded history.
Today, largely because of tireless volunteer firefighters and relentless air attacks, that still holds true.
About 20 houses on the mountain, all off the six-mile South Grade Road north of state Route 76, were lost to the Poomacha fire late Tuesday night and early yesterday morning. Portions of the state park and its popular campground also burned.
But when winds pushed the fire toward the top of the mountain yesterday morning, licking at houses along Crestline Drive, members of the Palomar Mountain Volunteer Fire Department forced back the flames.
Air tankers repeatedly dropped fire retardant on the mountain's north and east faces, keeping the fire from overwhelming the community of about 200 permanent residents. Ground crews raced to douse the flames that tankers missed.
No structures near Crestline, the location of most of the mountain's 300 houses and cabins, were lost. Most of the homes along South Grade Road were lost. "There was a handful that survived because they were newer and had good 100-foot defensible spaces around them," Lucia said.
The mountain will not look the same for a long time. The south and east sides were burned virtually all the way to the top. The thick forests that once restricted the views below no longer exist.
Category: Main, Maps, SAN DIEGO EMERGENCIES, San Diego Fires
Bruce Henderson is a former Marine who focuses custom data mining and visualization technologies on the economy and other disasters.