The IR Source that I have been fond of did another sensor pass on the Poomacha fire last night. I now can show the extent of the burn on Palomar Mountain and near Rincon.
For those of you wanting to look at the data yourself, you can find it at the Pacific Southwest Research Station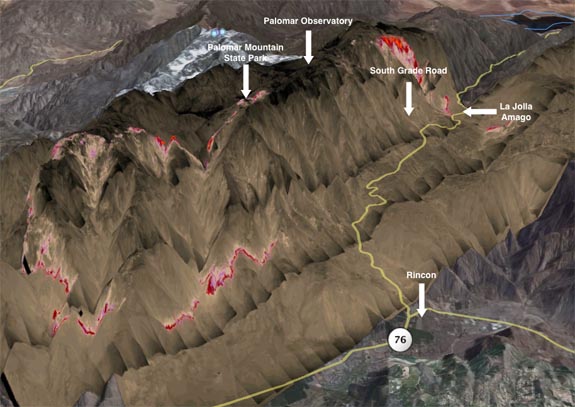 The image looks a bit odd because the infrared sensor sweeps from side to side under the aircraft, later software pieces together these "strips" if pixels showing how hot something is, and sometimes you get this strange banding effect.
From the image you can see where the fire is burning in relation to the Mount Palomar Observatory, the State Park, South Grade Road and the town of Rincon, home of a Harrah's casino.
This data was taken by aircraft at 20:26 October 24th.
Category: Main, Maps, SAN DIEGO EMERGENCIES, San Diego Fires, Visualizations
Bruce Henderson is a former Marine who focuses custom data mining and visualization technologies on the economy and other disasters.