The Poomacha fire is still working hard to try and burn as much of Palomar mountain as it can, as shown in these images created from Google Earth merged once again with infra-red data from the Pacific Southwest Research Station. To create this kind of data, an aircraft flies over the fires with a special kind of digital camera that detects heat. Much of this data is fed in near real time across a satellite link to a ground station that matches each pixel to what spot on the ground it represents, then colors it based on how hot the camera said it was. Luckily for all of us they make this data available and people like me can get to work turning it into what the intelligence community refers to as "Product" that informs those who want to know what is going on. A word of caution, while I try my hardest to make sure everything is as accurate as I can make it, intelligence work is more art that science. It is part visual, part deductive, part structured analysis and part intuitive.
Poomacha Looking West – Oct 25 2000 PDT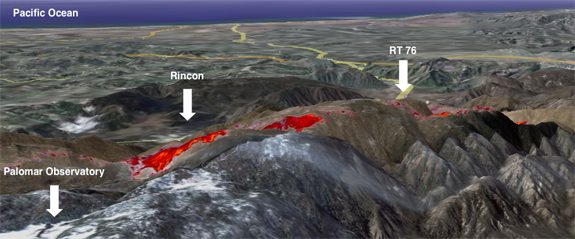 We can clearly see the fire attempting to push to the eastern side of the summit in this image. It should be noted the fire is burning now on the North East side of Palomar, and the majority of the population is well South (left side) of this map,
Poomacha Looking North – Oct 25 2000 PDT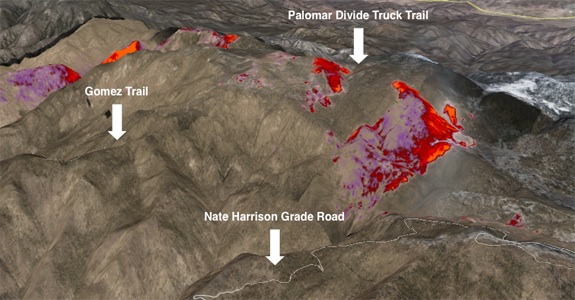 This image shows the northern portions of Palomar burning under the Poomacha fire. Note that the populated areas near Crestline are well South (behind) this view. The fire seems to be burning strongly near Palomar Divide Truck Trail.
Poomacha Looking South – Oct 25 2000 PDT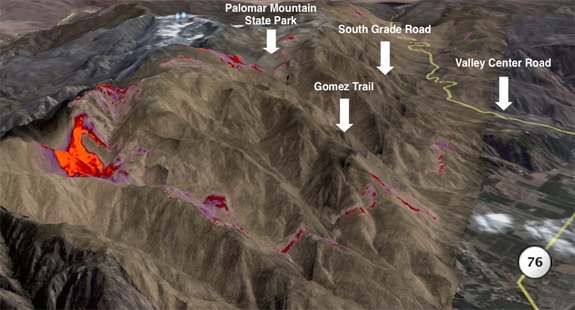 This view is looking South towards the populated areas. In response to questions from readers, I do not have any word on Mother's Kitchen, one of my favorite places too.
Category: Main, Maps, SAN DIEGO EMERGENCIES, San Diego Fires, Visualizations
Bruce Henderson is a former Marine who focuses custom data mining and visualization technologies on the economy and other disasters.