I have to confess, ever since our community was saved by some brave guys who decided to jump in front of an inferno, I have been thinking about the kinds of problems they face. Now word comes that some clever folks have combined some off the shelf technology to create a "Smart Suit" that mashes up wireless networking, GPS and personal bio sensors.
For those of you who remember the movie "Aliens", the command element was able to see exactly where their team was in the complex during the "Sweep" and what their vitals were. Now we see something bringing that concept to reality – just amazing. In urgent situations where you may have dozens of team moving and in action at the same time, knowing where everyone is can be crucial to safety and success. In the military there are large elaborate systems called "Blue Force Trackers" that attempt to do just that. Now we see civilian tech taking a step ahead, largely because they are not trying to obscure the location of their folks in the field as the military must do.
From inventorspot.com and Gizmodo.com:

New "smart" Suit for Firefighters Will Save Lives of Rescue Workers

The new firefighter "smart" suit, produced by I-Garment, will help to remedy safety and communications problems during disaster relief.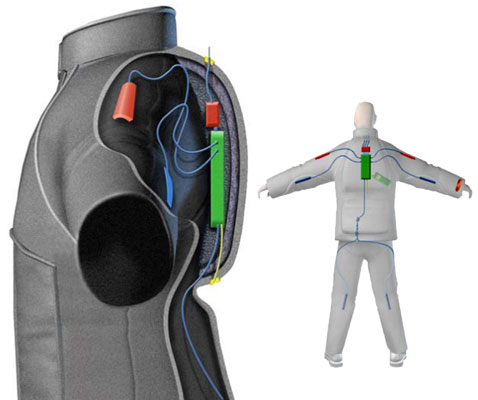 Disaster relief, fires, floods, car accidents, and other unforseen incidents are just another day in the life of a firefighter. We've all seen the damage that these kind of disasters can cause, and the lives that they put at risk. Just look at the recent wild fires in Southern California, and the amount of damage to property and lives. Another example is 9/11, and if you recall, the cell phone networks were completely jammed in the New York City area on that day. This posed a problem for safety crews who rely on these networks for communication.
The "smart" suite will soon be in use by various safety departments in Europe. No word on whether it will make its way across the pond to the U.S. I'm sure that similar technology will soon be used by Fire Departments across the U.S. There is no doubt that this suit could be very useful. If we had this suit during 9/11, maybe we could have saved, or at least recovered, rescue workers who were buried in the rubble at the World Trade Center. GPS technology is one of the fastest growing industries in the public safety segment, and it will help to keep our men and women, who put their life on the line everyday, much safer.
Category: Emergency Preparedness, Main, SAN DIEGO EMERGENCIES
Bruce Henderson is a former Marine who focuses custom data mining and visualization technologies on the economy and other disasters.