The past 8 days have been very strange for everyone in San Diego. The amount of people displaced, the amount of damage and the amount of disruption to a place that really likes its routines has left a serious toll on many people.
Some examples of what this weekend was like;
– Though the fires are no longer a major threat to any populated areas, they are still producing a large amount of smoke, especially for North County. Both Saturday and Sunday morning we woke to a very thick smoke layer hugging the ground due to the overnight winds and temperatures. The cumulative effect is really beginning to impact anyone who spends much time outside, and people are starting to develop hacking coughs.
– During the day on Saturday we were blessed with some light rain. Just a trace amount via the rain gauges, but enough to precipitate the soot and smoke out of the air for a while. The feared Northeast wind never did develop.
– We had cause to spend a large amount of time at an animal hospital this weekend, and they were hugely busy. Many people could not evacuate their animals for one reason or another, and many came home to find them suffering from smoke, lack of food / water or issues brought on by stress. Many other pets were running loose and it seemed to lead to a large number of dogs and cats that were hit by vehicles.
– There is ash everywhere. As in 2003 during the Cedar fires, it will likely be "around" for at least a year. It shows up on every surface no matter how much you clean. As time wears on to becomes a finer and finer dust that really can make the air quite a hazard for anyone who is prone to breathing problems.
– The San Diego Blood Bank put out the call to everyone who was even close to being ready to donate. Come Saturday morning there was a good crowd giving blood, and happy / proud to do so.
– The relief organizations are really getting into full swing. This includes both the government, charity and religious. Coupled with the self-reliance that is common in San Diego, people in need are usually getting help. Everyday people have taken to asking each other if they are ok, and if they need help.
On a final note, at least 2 local weather news segments suggested a possible Santa Ana the first weekend in November. The charts I am looking at disagree, and I hope I am right. I fear that such massive attention will bring the fire bugs should the wind start to blow.
[Henderson] Update at 09:00 PDT – seems that local NBC now has a report about Santa Ana on their web site. This may be correct but it is in opposition with the NCAR / NOAA predictions I took a look at this morning.
[Henderson] Update at 09:10 PDT – KT Cat's scratching post has some amazing photos of his neighbor's house and how close it came to loss in the fires. This includes green grass burning.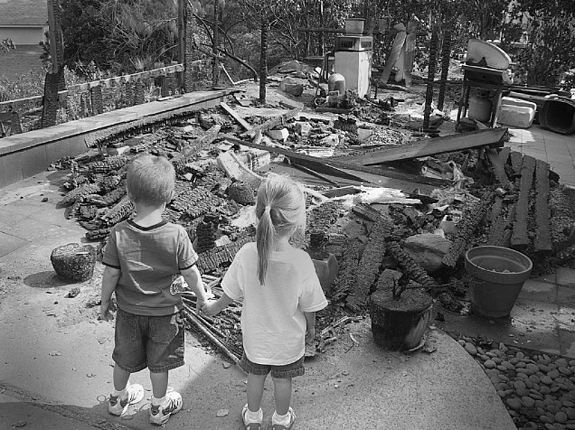 Photo Credit – burginger.com
[Henderson] Update at 10:10 PDT – Mark Burginger sends this photo along of his friend's children looking over the remains of the family's back yard , really sums up what some folks are facing. Mark is an architect in the San Diego area and his web site features a gallery of his buildings.
Category: Main, Photography, SAN DIEGO EMERGENCIES
Bruce Henderson is a former Marine who focuses custom data mining and visualization technologies on the economy and other disasters.