As mentioned earlier the winds have calmed significantly and in some cases we are reading zero on the wind gauges for many cities that have been under threat of burn, or under the smoke plumes. I cannot stress enough how this fundamentally changes the fight against these fires, as it allows full deployment of air drops and enables the fire crews to work much closer to the head of the blaze to set backfires and create fire breaks.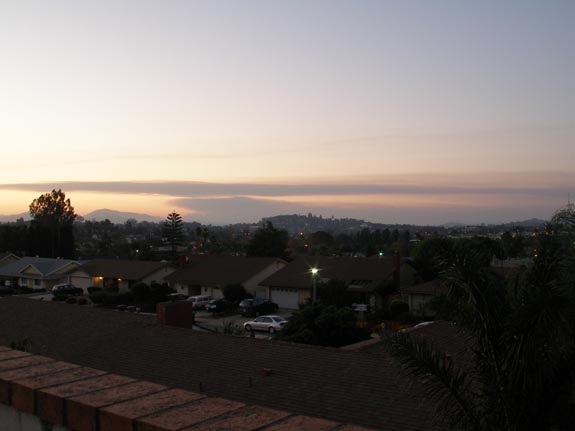 This picture snapped early this morning from my back porch (readers will be familiar with this view) looks South East towards Ramona at the Witch Creek Fire. As you can see the smoke is now rising almost straight up.
Expect some good news on containment of some of these fires later in the day. I cannot begin to describe the level of courage, commitment and herosim on display in the San Diego area by these fire crews. These people are working around the clock on little sleep, little food and are putting themselves in danger to protect the community. Honestly, I think we should hold a parade or party to thank every last one of them for what they are doing.
As the Santa Ana dissipates, we will begin to see a prevailing Sea Breeze from the coast towards the inland mountains. This is typically humid, cooler air that will further help the fire fighting effort with one caveat – the winds will reverse and can blow from west to east (instead of the Santa Ana east to west) possibly bringing the fire back to areas that people may assume were bypassed as the flames moved west.
Posted 09:15
Category: Main, SAN DIEGO EMERGENCIES, San Diego Fires
Bruce Henderson is a former Marine who focuses custom data mining and visualization technologies on the economy and other disasters.