Word has come down that where we stashed the horse is now under evacuation. Before we leave to move him to (safety?) I wanted to post a note on it. He is being moved because of the resurgent burning at the north side of Lake Hodges, near Del Dios. This area did not burn yesterday, but some time last night it either started or regained strength and now threatens an area that escaped yesterday's burn.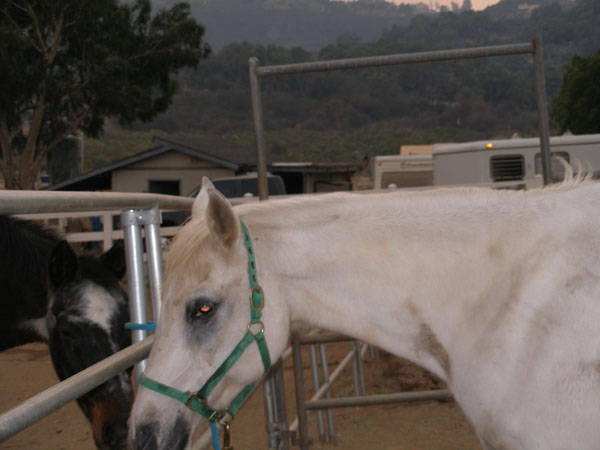 The big question is where are we taking him? Del Mar is full, the stables and pastures of the eastern foothills are ablaze. The person who runs the barn has suggested a place near Bonsall / Vista, but as far as I can tell that is under evacuation too, and is threatened by the Rice Canyon Fire.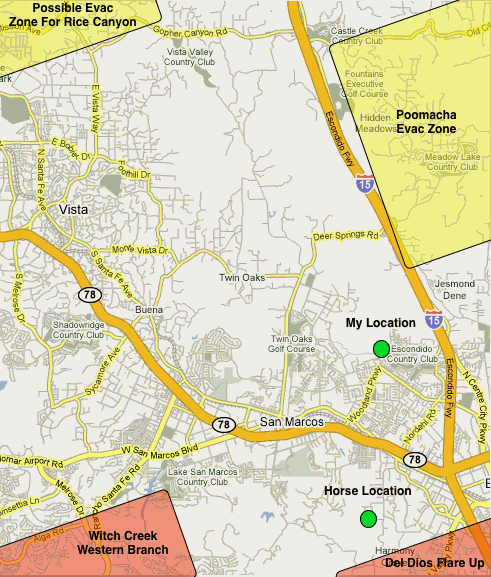 Plainly put, North County San Diego is running out of room to run away from all the fires. Thanks to all for reading us, and sorry we were off the net for a while.
Category: Main, Maps, Photography, SAN DIEGO EMERGENCIES, San Diego Fires
Bruce Henderson is a former Marine who focuses custom data mining and visualization technologies on the economy and other disasters.