Update 09:30 Pacific
Good news from the front – around the north half of the county the winds are calm now, and the air assault is taking place in full force. Dozens of water dropping aircraft are now engaging the Witch Creek Fire and the Harris Fire. There is some uncertanty how long this pause will last, so they are making the best of it.
It takes a special kind of madman (or madwoman) to fly a heavy cargo airplane full of sloshing liquid on a Banzai, low-altitude course over a smokey blaze. God bless them!
---
Update 09:30 Pacific
The smoke from both the Witch Creek fire and the Poomacha fire is now overhead, and this photo shows the 2 smoke plumes merging west near Vista.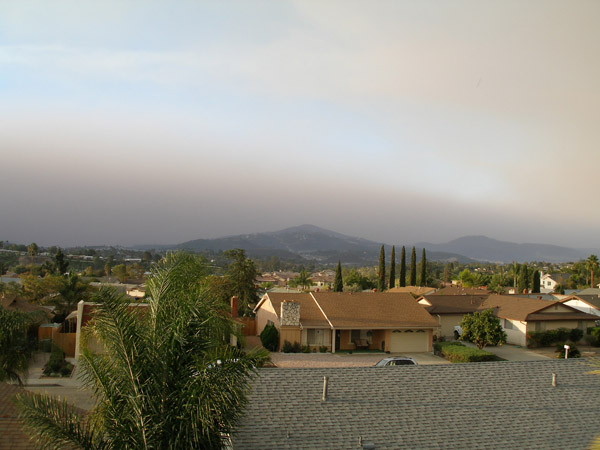 Note this is once again looking south at the same hill that I photographed frequently yesterday.
An hour later the smoke had filled our little valley, and the air was getting increasingly un-healthy.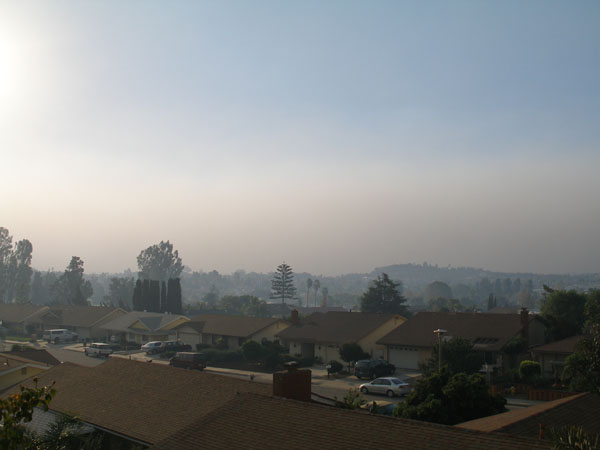 ---
Update 09:00 Pacific
The area of the Witch Creek fire at the south end of Escondido appears to be once again on the move. A new evacuation area was just announced by the San Diego emergency folks, and it includes areas north of yesterday's big burn through Lake Hodges that took out so many homes in Rancho Berndardo.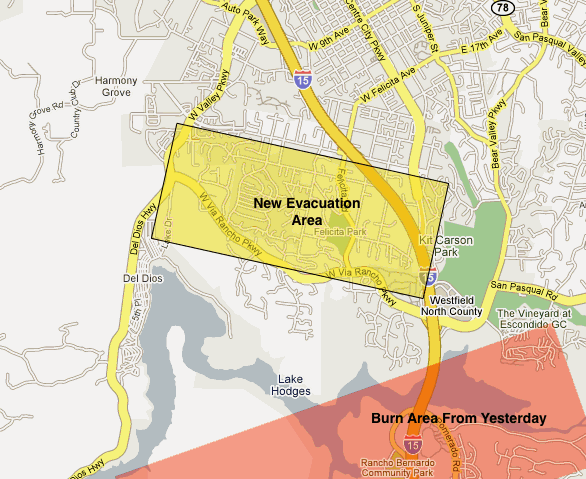 Looking at the West end of this fire as it burns through Rancho Santa Fe, this is what I think the burn pattern looks like as of early this morning. Please note that the actual burn area is probably quite a bit larger.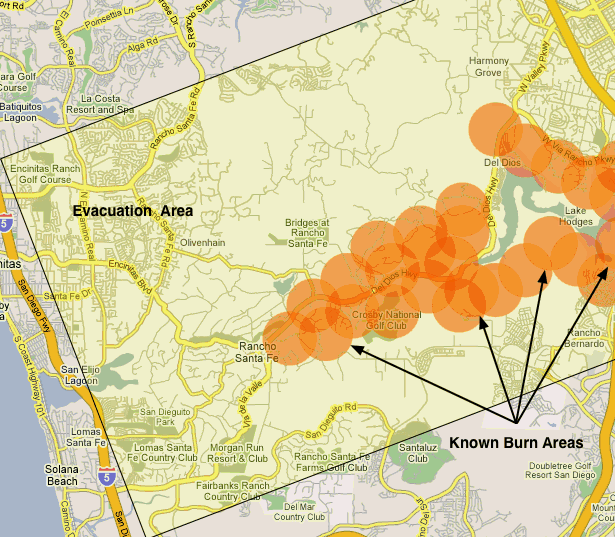 ---
Update 08:00 Pacific
I have been trying to get detailed information on the Poomacha fire, and its possible impact on my location. I have heard that the community of Hidden Meadows is being evacuated. No real information on what the boundaries are of the evacuation area, but given where Hidden Meadows and Deer Springs are (from the UT article) the evacuation area may look like this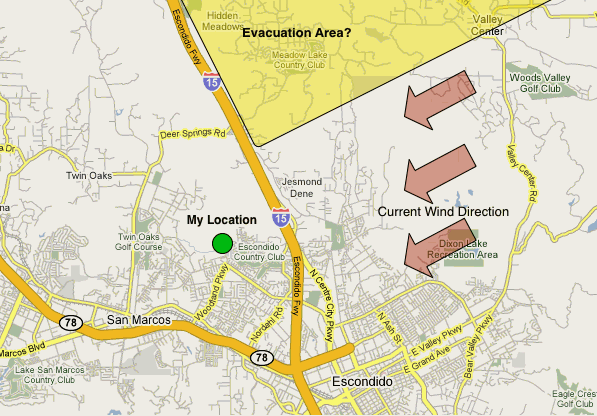 Confirmed that the area around the Lawrence Welk resort is now being evacuated. So it looks like they are clearing a path for the Poomacha fire to burn all the way down to Interstate 15 if it gets that far.
---
Update 07:45 Pacific
Quick word that a new fire has started in Camp Pendalton at the Interstate 5 rest stop north of Oceanside. Quite possibly accidently started by someone's car or a cigarette butt. With any luck the Marines will put this out quickly, as it is very close to the ocean.
Also late word that a mandatory evacuation of the Hidden Meadows community on the east side of Escondido has just begun.
---
Update 07:30 Pacific
I have come to find out that the smoke plume photographed at sunrise is not in fact the Rice Canyon fire. It' the new fire that started near La Jolla Reservation, now being called the Poomacha fire. This one has my attention now, as we are directly in the burn path of this thing. Also of note a past associate of mine (and all around good guy) Jim Hammerly's house is on the slopes near Palomar, we hope he and his family are ok.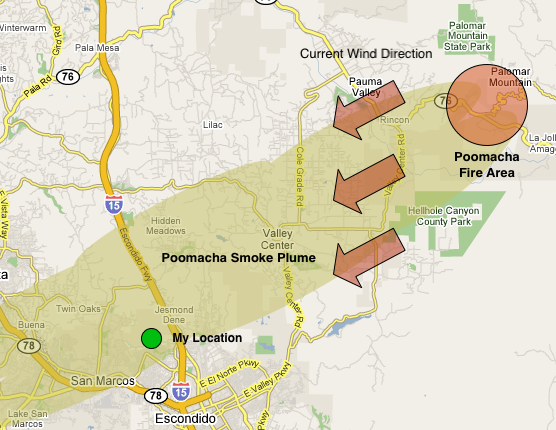 From the SD Union Tribune:
A fourth fire that started overnight on the La Jolla Indian Reservation has burned about 1,000 acres in Pauma Valley and injured eight people, Cal Fire Capt. Don Camp said. Camp said evacations are in effect along the state Route 76 corridor in the communities of Vista, Hidden Meadows, Valley Center and Deer Springs, Camp said. The fire, which is being called the Poomacha fire is zero percent contained, Camp said. It started at a structure on the reservation and quickly spread to the eastern side of Mount Palomar, Camp said.
---
Update 07:00 Pacific
San Diego County's Emergency crew has gotten into the map / GIS business. A bit late but good to see, as their data is likely to be quite accurate. Thanks to readers who tipped us on this file. Full map is in this PDF file.
Harris Fire


Rice Canyon Fire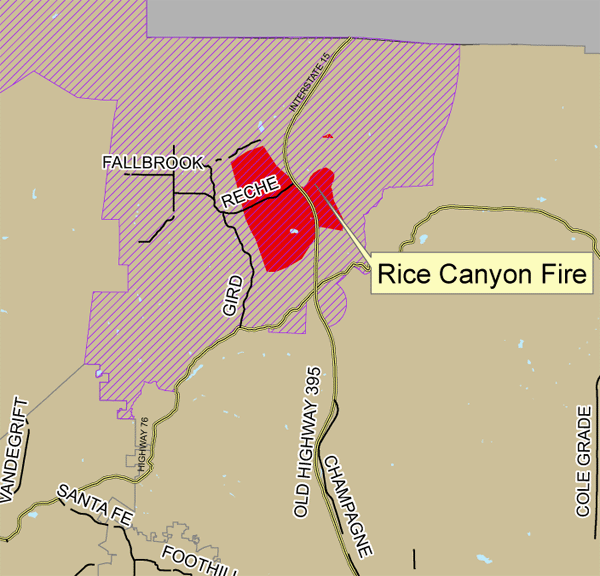 Witch Creek Fire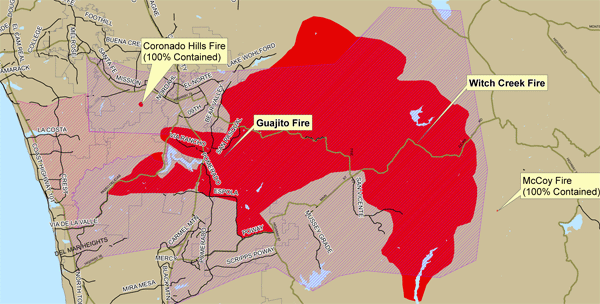 Meanwhile at my location, we are now under the smoke plume from the Rice Canyon fire. This is sure to worry my dear wife who is of the opinion that if the smoke can get there, so can the fire. With luck today will be less windy than yesterday and we will see a lot more action from the air tankers against these fires.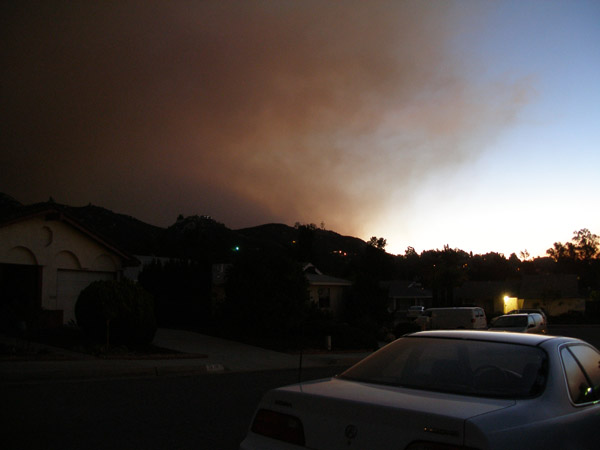 ---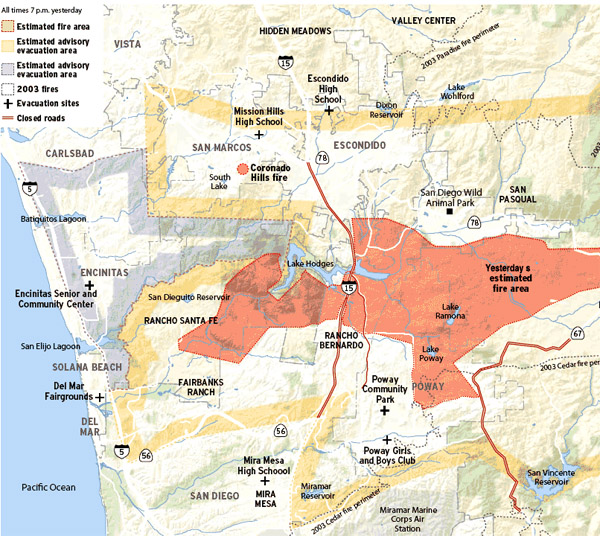 (Union Tribune Map, click for full sized version)
Good morning everyone. First off I wanted to thank all of our readers, there is a huge number of folks who have found this site in the past day, looking for information on the fires in San Diego County. Thanks to the web sites that have linked to us, including:
Instapundit
Ace of Spades
Piggington
Carlsbad Jim (SD Bubble Info)
Wired
Kithbridge
Everyone else who I can't figure out at the moment because the log parser is acting up
A big thank you to Bruce Webster who is the primary author of this site for having me post here. I am hoping the bandwidth spike does not make your ISP grumpy!
If you are looking for yesterday's coverage of the fire, you will find it here.
At 5:30 the air was calm after blowing strongly for most of the night. The scent of smoke is in the air still, though after my scouting last night we got off easy. Detailed information continues to be hard to come by on most fronts, but here is what we know as we start Tuesday October 23 (from Union Tribune):
New Fire – La Jolla Reservation (note – not near La Jolla, CA)
According to CALFIRE, a new fire is burning in the area of the La Jolla Indian Reservation. The fire was reported at 4:10 a.m. Several structures are burning. At least 150 acres involved. The reservation has been closed, and people are being evacuated to the Palomar Observatory. CALFIRE and U.S. Forest Service crews are battling the blaze.
California Highway Patrol Officer Alicia Contreras says the fire is burning along Poomacha Road near state Route 76. Several structures have goneup in flames, she says, and evacuees are being sent to Harrah's Rincon Casinoat 33750 Valley Center Road.
Witch Creek Fire Update
Reverse 9-1-1 is being used to issue mandatory evacuations to all residents of Wildcat Canyon and Muth Valley south to Willow Road. Those evacuated are being directed to Santana High School. Winds are picking up in the area. Wildcat Canyon Road at Willow Road at the south end of Wildcat Canyon is closed.
First reported: 12:37 p.m. Sunday
Acres burned: 145,000
Containment: 0 percent
Structures lost: 500 homes, 50 outbuildings, 100 commercial buildings
Resources: 625 firefighters, 89 engines, six helicopters, five air tankers shared with Harris fire
Deaths: zero
Injuries: eight, including seven firefighters
Evacuation borders range from Julian Road/Highway 78 at the east and El Capitan Reservoir south toward Old Highway 80, northeast from Lake Henshaw , west toward Lake Wohlford in Valley Center and Buena Creek in the San Marcos/Vista area and to Route 78 at Melrose Drive in Vista.
There are proposed evacuations for Del Mar Heights and Route 56 to Black Mountain Road, Miramar Road, Pomerado and Scripps-Poway Parkway.
Rice Canyon Fire Update
Fire officials in the field report the blaze is moving east toward De Luz Road, and residents are being evacuated in ahead of the flames.
A 1,500-acre wildfire has destroyed about 100 structures in Fallbrook, where some 45,000 residents were evacuated today. The fire erupted in the Rice Canyon area, south of Rainbow, about 4:15 a.m. Monday, according to the state Department of Forestry or Cal Fire.
About 45,000 people were evacuated over the course of the day Monday, fire officials said. Many were directed out of the area through Camp Pendleton to the west.
First reported: 4:16 a.m. Monday
Acres burned: 1,500
Containment: 0 percent
Structures lost: close to 100
Resources: 50 firefighters, five engines
Deaths: zero
Injuries: zero
Evacuation borders are along the county line from Pala-Temecula Road to DeLuz, southwest to Fallbrook, Route 76 and Santa Fe Drive in Oceanside/Vista. It's burning northwest. There is a concern it will meet with the 100-acre Rosa fire north of the county line in Riverside County near Ortega Highway.
Category: Maps, Photography, SAN DIEGO EMERGENCIES, San Diego Fires
Bruce Henderson is a former Marine who focuses custom data mining and visualization technologies on the economy and other disasters.