Word from the north is that the main part of Fallbrook was spared from the Rice Canyon fire. The area is still under threat, but according to a report on local news the vast majority of Fallbrook proper was not burned as some had feared.
From the Fallbrook Village News
" UPDATE (8:58 am) With information still a challenge, Village News sources are saying that the devastation is not quite as bad as we feared, even in the Reche Rd. area. Not all homes are destroyed. However, Atkins Nursery suffered greatly. Arson is suspected for some of the fires. Pala Mesa is devastated. The Lake Viejo area appears to have survived the night. Fallbrook Downtown is in good shape so far. "

also this
While information is still hard to find, sources in Fallbrook say that Red Mountain is still on fire, there are spotty fires around the area. Town is NOT on fire and homes that are near town for the most part and west of town are unharmed.
A new fire started last night on the Temecula side at the top of Santa Margarita and is burning toward DeLuz.

Word from the wild animal park that the preserve area for the California condors did burn, but the birds themselves are safe and secure. The park itself reportedly has some damage to its facilities, but all of the animals at the park are safe.
On the western edge of the Witch Creek Fire burning through Rancho Santa Fe at the moment towards Del Mar and the Pacific, Fairbanks Ranch is now being issued evacuation orders.
Reports are the area north of Lake Hodges in Southern Escondido south of Via Rancho Parkway is once again starting to burn. This is an area that was evacuated earlier.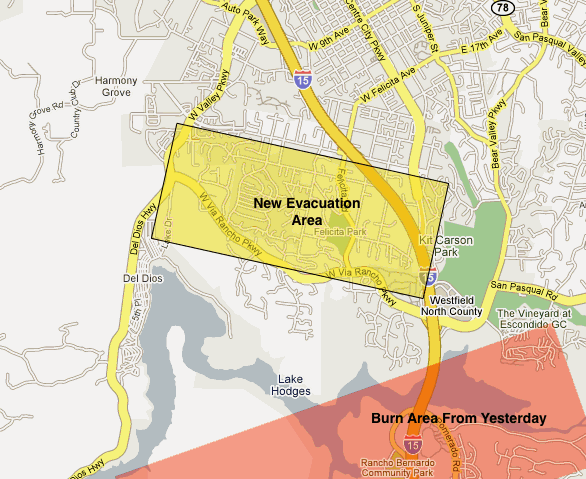 Information around the Poomacha fire seems to be very tough to come by indeed. At present there is a lot of confusion about where this fire is burning and what areas are being evacuated. There was an effort to evacuate Valley Center High, a previous "safe" area that was stopped. At the same time many people are coming down from Valley Center looking for refuge.
On a personal note, the horse is still safe but smokey, for those of you who were wondering what he looks like (and thanks for the emails of safe wishes and concern) here he is.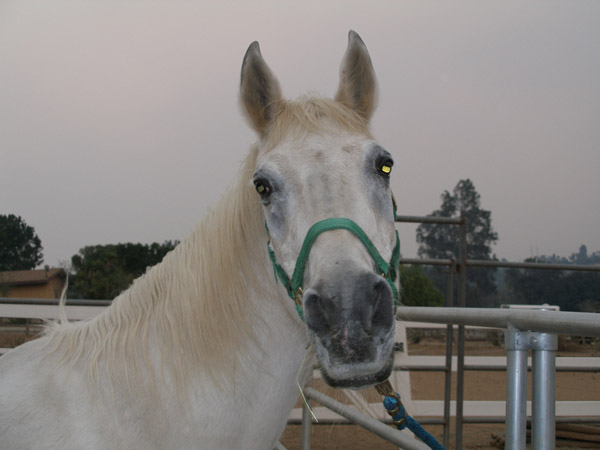 Please also note – now that Webster and I are both going at it, we are now posting updates as separate entries in the blog. To see the previous thread from today on the fire, click here.
Category: Maps, Photography, SAN DIEGO EMERGENCIES, San Diego Fires
Bruce Henderson is a former Marine who focuses custom data mining and visualization technologies on the economy and other disasters.