At the beginning of the month there was a story in Reuters about distribution problems for fuel in China:
Diesel shortages in China's political heart, which escaped previous supply crunches unscathed, highlight tensions between the government and its increasingly independent oil firms about who should pay for the country's generous fuel subsidies.

At stake are profits for oil majors Sinopec and PetroChina from selling motor fuel in the world's second-largest consumer, where pump prices have not been raised in 17 months even as crude costs hit a series of record highs.

Diesel costs about 64 cents a liter at the pump in Beijing, versus around $1 in Singapore and $2 in Britain. Beijing worries that more costly energy could push up already-high inflation or spark unrest, and effectively forces its refiners and retailers to subsidize state-set prices. A source at PetroChina said the company would lose 1,500 yuan ($200) a tonne by selling imported diesel at Chinese pumps.
This story did not get very much attention when it came out, it does not fit a template of "critical information". It's a story about a strange distant place and fuel supply is something Americans take for granted. But beneath the surface are some important facts.
Many people don't remember that China is still a communist dictatorship. While the government has allowed some experimentation with a "managed" market, many segments are either controlled by a central planning committee or are controlled / owned directly by party members or officials.
More than any other nation on earth in the past decade, China has seen an explosive growth in personal wealth and consumption. There is a measurable and growing middle class now in the world's most populated country, and they are looking to enjoy and consume an ever increasing amount of "stuff".
Previous shortages in fuel had been limited to more rural regions where the primary concern is farming. The central government subsidizes every gallon of fuel sold in China, and sets a price that it will cost at the pump. This means that the money China makes selling cargo containers of nearly everything to the world goes towards making sure their people can purchase cheap gas.
From the International Herald Tribune:
In Hefei, the capital of eastern Anhui Province, independent suppliers had almost all run out of diesel, and several run by the oil majors China Petroleum & Chemical, known as Sinopec, and PetroChina were rationing supplies.

"We don't have diesel today. The supply has been quite spotty. Long lines in front of gas stations are very common these days in Hefei," an independent gas station manager surnamed Yang said.

State-set diesel and gasoline prices have not been raised since May 2006 because of government concerns that pricier energy could push up already high inflation or spark unrest.

But with these retail prices, most plants can only break even with crude at around $65 a barrel or lower. So as international markets climbed to records near $94 a barrel, they are ever more reluctant to keep markets supplied.
During the past decade of growth and prosperity, a vast number of people have moved from the farms to the cities in search of work. Shortages in basic staples are symptoms of a system that is approaching it's limits. The one thing that the Communist party in China fears would be the Chinese people.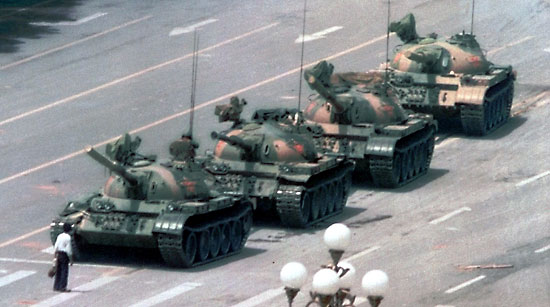 As we saw in 1989 in Tiananmen Square, a popular uprising with a billion people on tap would be the kind of force that would be tough to quell.
Category: China, Economics, Geopolitics
Bruce Henderson is a former Marine who focuses custom data mining and visualization technologies on the economy and other disasters.