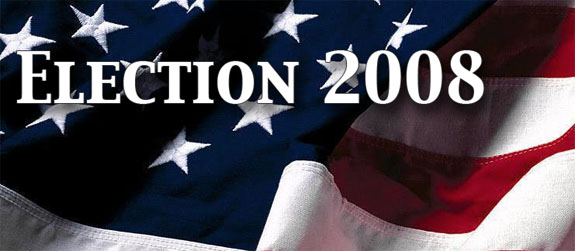 Well, the circus that is the Iowa Caucuses is complete, and I am thankful for that. Never before have I seen the media make a bigger fuss over a tiny handful of voters and what their whims were. To see teams of analysts and pundits attempt to draw broad conclusions over what is (apologies to Iowa) a throw-away test vote is oddly fitting for this race among some of the worst candidates ever.
First of all, Obama won the Democratic side. As I have said before on this blog and in person, I believe this man will (one day) be our first black president. I thought that when I saw him speaking at the 2004 convention. I honestly hope that he is not the candidate this time around. Why? The man is young and has a lot of potential, but he lacks the kind of experience that will make him the kind of leader he could become. That won't come from sitting around the stuffy old Senate playing dumb policy games with Harry Reid or the rest of those fools. If I could recommend something for Senator Obama – get out of the race early before the Clinton hate machine really starts to take you down. Take a few good victory laps, you have earned them! (Scoring on the Clintons is not easily done). Then get out of the race, get out of the Senate. Go be governor of Illinois or CEO of a big company for a while. You are more than up to the challenge. Get some executive (not legislative) experience going for you. Then come back and clean up
Gov. Huckabee won on the Republican side. He should enjoy it while it lasts, there is zero chance that the conservative power machine is going to let him get the nod (my opinion). He has already picked a fight with Rush Limbaugh, and I am guessing that Romney and Giuliani opposition research have more than enough to take the shine off of Gov. Huckabee when the time comes. That time will be a bit closer to the real races later in January and early February. Should he somehow manage to hang on, I don't think the American public is ready to elect a priest/rabbi/imam/minister any time soon.
Overall, I consider this to be the absolute worst field of candidates that I have ever seen in my life, even surpassing the lackluster Jimmy Carter / Gerald Ford race in 1976. In addition I am well sick of the campaign stupidity that has been saturating so many aspects of the media. The election is still 11 months away and I would guess that a growing number of people are, like me, sick of it.
The next administration is being handed a lit bomb with the fuse getting very short. The current crew is trying very hard to kick the remaining cans down the road as hard as they can, allowing them to leave office with a fairly good record. The next poor slob to take over (and yes that could be Hillary) is going to have a lot of problems coming home to roost. More than likely the current campaign issues will be long forgotten with 12 months of taking the oath of office.
Category: 2008 Election, Main, Media, US Politics
Bruce Henderson is a former Marine who focuses custom data mining and visualization technologies on the economy and other disasters.