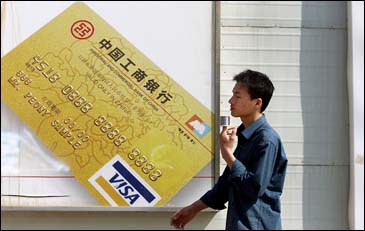 Well, so much for containment! It seems that the banks in China were no smarter than the rest of the world, and became investors in the funny money structured investments backed up by questionable loans. From CNN Money:
China's banks feel subprime heat
BEIJING (AP) — Shares in China's banks fell sharply Monday after news reports said its No. 2 lender, Bank of China, might write down holdings of U.S. mortgage securities and two others increased reserves for possible losses.

The reports were the first indication that Chinese lenders, which have so far avoided damage from the U.S. credit crisis, might face problems due to their holdings of subprime securities.

Also Monday, China's banking regulator warned that lenders might face risks from fluctuations in fast-rising real estate prices.

Bank of China is expected to announce a "significant writedown" on its $7.95 billion in U.S. subprime mortgage securities, Hong Kong's South China Morning Post newspaper reported, citing unidentified sources.
Well, it seems to be the season to come clean about who is holding how much of the "bag" on the credit bubble (of which sub-prime housing loans are just one ugly facet). As China is a highly orchestrated and rigged economy, it makes me wonder why they bother declaring a loss at all, but perhaps they want to make it look like they are an open society with real laws and real banks.
Still more China Bank uglyness remains just below the surface:
But the country's industry regulator warned in a report released Monday that they might face higher risks from fluctuating real estate prices and financial conditions.

"Property market price fluctuation possibly could increase credit risks facing the banking industry," said Jiang Dingzhi, vice chairman of the China Banking Regulatory Commission, said in a report on the agency's Web site.

Jiang gave no details but called on banks to improve risk management.

Chinese regulators have raised interest rates repeatedly over the past year and tightened lending standards in an effort to cool a boom in investment in real estate and other assets. They have warned repeatedly that runaway spending could lead to a debt crisis if investors in ill-conceived plans default on loans.
And here we have the real problem. China has been the hub of run-away speculation on all manner of things from pork (actual pig meat) to light bulbs to ant aphrodisiacs. No, i did not make that up. People have been taking out huge loans to play the ever increasing stock markets, and the amount of leverage in the Hang Seng and other China markets is staggering. Even the central government has no real idea of how bad it is.
As I say in all of my presentations – the biggest problems we have faced and will face are driven by lack of information presented in an actionable way in time to prevent the crisis. This is no different.
You can look at the global stock sell off as a trigger event. It is possible that enough losses will take place in markets like China that it will flush out all the chump day-traders / speculators. It is sadly possible that this could trigger a cascade of leverage un-winding within a manner of days. I sure hope it does not come to that, as it would be epic.
Category: China, Credit Backlash, Economics, Main, Recession Watch
Bruce Henderson is a former Marine who focuses custom data mining and visualization technologies on the economy and other disasters.