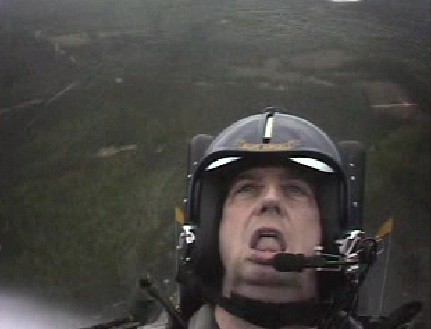 Thanks to co-worker and friend Rob Wade for sending me this great video of someone getting a back seat ride in an F/A-18. During my days in the "short haircut club for men" we would sometimes take people up in the back seat of our RF-4B's, though most frequently it happened when we were outside the US.
The pilots have a special love of such ride-alongs, and it was important to make the VIP feel they got their money's worth by having them pass out multiple times. Bonus points were often awarded if you could also get them to throw up. Of particular use in inducing the old "heave ho" was a series of maneuvers that was referred to as the "squirrel cage".
[NOTE – Some folks are having problems with the video embedded in the HTML this way, so it is now available at this URL: http://alt.coxnewsweb.com/ajc/swf/blueangels/blueangels.swf]
The fellow in the back seat for this ride seems to be getting a good lesson in gforce and the human body.
For those of you wanting embedded video, this gem from YouTube
Bruce Henderson is a former Marine who focuses custom data mining and visualization technologies on the economy and other disasters.