Today is a perfect day to share some facts on the up side of finance. As is usually the case, even in an ugly market not everything is always all bad. For example we are once again to going take a look at Hardtack data on price per square foot.
This time we review the places in the US where the asking price, as recorded in the MLS database went up year over year. These are markets where the average price per square foot are 10% or more higher than they were this time last year. While most real estate markets across the country are trudging lower, these markets are lifting. For many of them there are distinct reasons for the increase, often to do with broader market trends manifesting themselves in these areas.
To review, all real estate sales are governed by the local real estate board, who own and control a specialized database system called the MLS, or multiple listing service. By monitoring the data flowing through these MLS systems, we are able to see what sellers are hoping to get for their property, and measure several parameters about the property for sale.
The graph below shows the percentage change in the asking price per square fot for a median single family home in each of the listed cities. You can click on the chart for a larger view.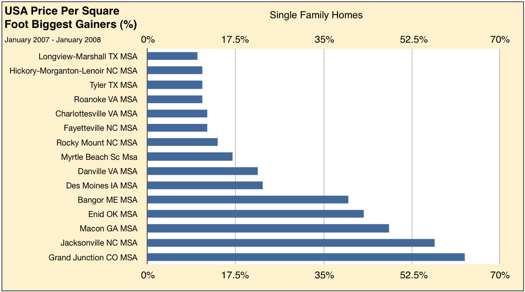 Leading this group higher is Grand Junction, Colorado. The business extracting energy from the oil sands is really creating a boom in the local market, and the price per square foot is up 63% year over year.
| | |
| --- | --- |
| Grand Junction CO MSA | +63% |
| Jacksonville NC MSA | +57% |
| Macon GA MSA | +48% |
| Enid OK MSA | +43% |
| Bangor ME MSA | +40% |
| Des Moines IA MSA | +23% |
| Danville VA MSA | +22% |
| Myrtle Beach Sc MSA | +17% |
| Rocky Mount NC MSA | +14% |
| Fayetteville NC MSA | +12% |
| Charlottesville VA MSA | +12% |
| Roanoke VA MSA | +11% |
| Tyler TX MSA | +11% |
| Hickory-Morganton-Lenoir NC MSA | +11% |
| Longview-Marshall TX MSA | +10% |
For some of the more rural areas, what we are seeing is a halo effect from the boom in alternative energy such as ethanol and wind farming. Some of these are resort and retirement locations, and are absorbing folks headed towards their golden years.
What does this all mean? Well, in spite of the nation-wide downturn in real estate, there are some places that are still attracting "hot money", and people in those areas would be wise to be cautious, lest the equity locusts from California and other bubble markets speculate their real estate far beyond what the fundamentals will support. If you live in these areas, you may want to consider selling your home and cashing in if you can, and renting for a few years.
Category: Economics, Information Technology, Main, Mashups
Bruce Henderson is a former Marine who focuses custom data mining and visualization technologies on the economy and other disasters.