Once again it is time to turn loose a new set of statistics on a segment of our nation's housing market courtesy of Hardtack. Hardtack now has been collecting data for about a year, and some trends are clearly identifiable in the data.
Last time we were looking at details of the declines (and some increases) in San Diego county. Today we are looking at the Sacramento area, which is giving San Diego a run for it's money when it comes to declines in the housing market. If you want to check out the specific statistics for Sacramento as they happen, feel free to visit the Sacramento page over on the Hardtack site.
As a reminder about the data, all real estate sales are governed by the local real estate board, who own and control a specialized database system called the MLS, or multiple listing service. By monitoring the data flowing through these MLS systems, we are able to see what sellers are hoping to get for their property, and measure several parameters about the property for sale.
So just keep in mind, these are prices that the sellers are hoping to get, as listed out in the MLS database for the various areas around and in Sacramento.
Below is a chart showing the major cities of the Sacramento MSA, and how the price per square foot has changed over the past year (click on the chart for a larger view).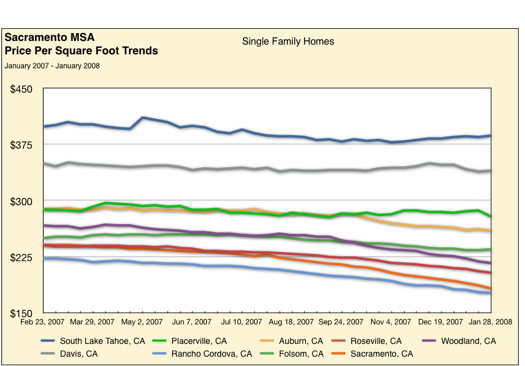 Full details with lots of charts after the jump
The graphs below represents the percentage change in the asking price per square foot for a median single family home in each of the listed town in Sacramento metro area, you can click on any graph for a larger view:
Sacramento MSA – El Dorado County


| | |
| --- | --- |
| City Name | List Price Change |
| El Dorado Hills, CA | -10% |
| Shingle Springs, CA | -10% |
| Placerville, CA | -3% |
| South Lake Tahoe, CA | -3% |
| Cool, CA | 3% |
El Dorado county is east/south-east of Sacramento, up-hill towards the Lake Tahoe resorts and the Sierra. From the statistics this area is down somewhat, but is holding it's value better than many other areas near and in Sacramento.
Sacramento MSA – Placer County


| | |
| --- | --- |
| City Name | List Price Change |
| Lincoln, CA | -16% |
| Roseville, CA | -15% |
| Rocklin, CA | -13% |
| Auburn, CA | -10% |
| Granite Bay, CA | -6% |
| Colfax, CA | -1% |
Placer county is east/north-east of Sacramento, and is also up-hill towards the ski and resort areas towards Lake Tahoe. Many of these towns are near or on Interstate 80. In general they are down somewhat more El Dorado County, but doing better than Sacramento county. Personal note – I am fond of Auburn California, which might end up being the next place I live.
Sacramento MSA – Sacramento County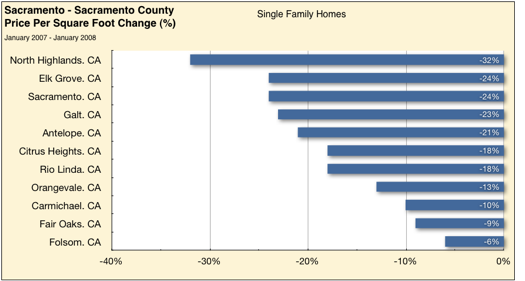 | | |
| --- | --- |
| City Name | List Price Change |
| North Highlands, CA | -32% |
| Elk Grove, CA | -24% |
| Sacramento, CA | -24% |
| Galt, CA | -23% |
| Antelope, CA | -21% |
| Citrus Heights, CA | -18% |
| Rio Linda, CA | -18% |
| Orangevale, CA | -13% |
| Carmichael, CA | -10% |
| Fair Oaks, CA | -9% |
| Folsom, CA | -6% |
Clearly the towns around Sacramento are suffering the most in the current downturn. Reports from bloggers there, including the excellent Sacramento Land(ing), told the tale of some of the worst symptoms of the real estate bubble. Now many of these communities are swamped with foreclosed properties and price-cut REOs on the sale list. This is likely to continue to depress prices for some time to come.
Sacramento MSA – Yolo County


| | |
| --- | --- |
| City Name | List Price Change |
| West Sacramento, CA | -20% |
| Woodland, CA | -19% |
| Winters, CA | -18% |
| Davis, CA | -3% |
Yolo county is generally to the west of Sacramento, and seems to be suffering the same general down turn that Sacramento is. The exception is the university town of Davis, that seems to be holding value fairly well.
Again, remember that all real estate markets are highly localized. As the data shows some areas are down a great deal more than others. Some of the smaller, more desirable areas are declining more slowly than others, and a few are actually increasing in value. These numbers are fairly close to raw, taken from MLS listings sampled weekly over the past year. Use them with caution.
Category: Economics, Main, Mashups, Recession Watch
Bruce Henderson is a former Marine who focuses custom data mining and visualization technologies on the economy and other disasters.