[Update 0730 PST – Henderson] Some nice animation of the shot can be found here..
[Update 1945 PST – Henderson] Brief word from the news wires that USS Lake Erie took the shot as planned and reported a hit. Congratulations to the crew for executing their mission like professionals in spite of conditions that (from what I understand) were less than optimal for the shot. More as it comes out.
[Update 1400 PST – Henderson] According to the AP, rough weather in the launch box near Hawaii may delay the shoot down attempt, or may switch to the secondary firing position. More as it comes out.
Well, seems that I was pretty far off on a number of accounts on my estimates. The US government has issued a warning for a huge swath of the Pacific ocean for 3 hours early Thursday morning / late Wednesday night. The "warning box" extends all the way to space (no limit on altitude) so this is where they will be taking the shot. The warning was issued as a NOTAM (notice to airmen):
02/062 (A0038/08) – AIRSPACE CARF NR. 90 ON EVELYN STATIONARY RESERVATION WITHIN AN AREA BNDD BY 3145N 17012W 2824N 16642W 2352N 16317W 1909N 16129W 1241N 16129W 1239N 16532W 1842N 17057W 2031N 17230W 2703N 17206W SFC-UNL. 21 FEB 02:30 2008 UNTIL 21 FEB 05:00 2008. CREATED: 18 FEB 12:51 2008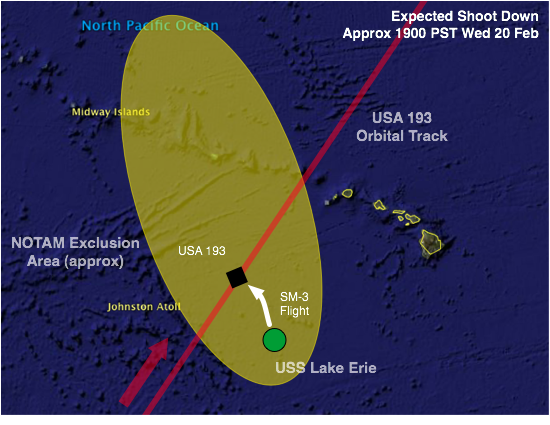 This is issued to keep commercial aircraft out of the way of things like missiles flying off towards space to shoot down inert spy sats.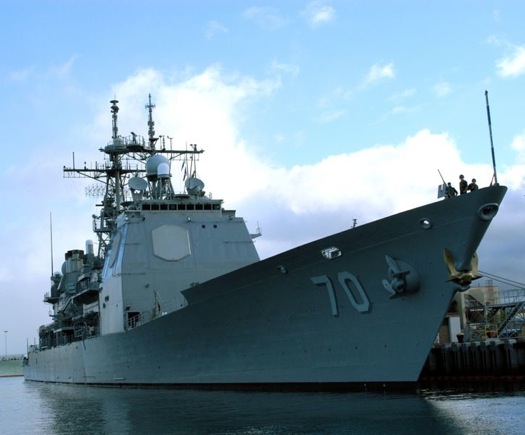 USS Lake Erie in port
Reports are the shooter will be USS Lake Erie, a Ticonderoga class Aegis missile cruiser out of Pearl Harbor. Supporting Lake Erie will be the destroyers USS Decatur and USS Russell. All of these ships are loaded with SM-3 missiles that have been tweaked up for this mission.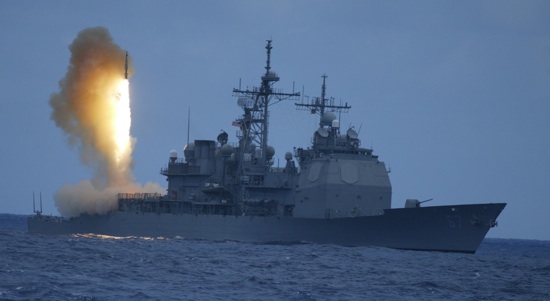 This is what it looks like when an Aegis cruiser fires a block 3 Standard. These are multi-stage weapons that are tied in to the Aegis fire control systems. Aegis can link multiple "over the horizon" radars together to form a comprehensive tracking network that gives them astonishing precision. It remains to be seen if this test, which is at the edge of what these systems can perform to currently, will be enough to take out the target.

[Wikipedia Image]
Also likely to participate in the shoot down will be at least one (and maybe several) RC-135 Cobra Ball aircraft. These are converted Boeing 707 aircraft that have been modified over the years to perform various intelligence or command and control roles for the Air Force. Cobra Ball aircraft have been fitted with optical sensors to observe ballistic missile flights at long range, and are frequently used during ballistic missile defense tests.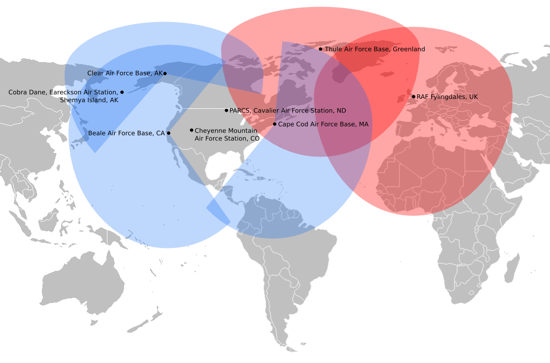 [Wikipedia Image, click for larger view]
Also in a supporting role will be the massive AN/FPS-115 PAVE PAWS Radar systems. These are large ground based phased array radar systems that can see up to space and over the horizon. The PAWS site at Beale AFB near Sacramento, CA was one of the factors that drove my initial idea that the shot would happen closer to that site (further increasing the accuracy of USA 193's location when computing the firing solution).
Category: Main
Bruce Henderson is a former Marine who focuses custom data mining and visualization technologies on the economy and other disasters.