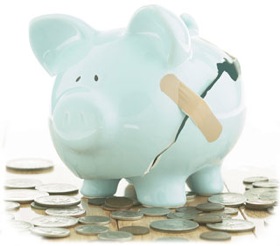 A very clever lady taught me that our entire financial system works on trust. When traders are buying and selling stock or securities, there is an inherent bond of trust that the transaction is what it appears to be. While we hear stories of slimy dealings on Wall Street and in the financial power houses of the world, that essence of trust is the under-pinning of our economic engine.
While I have written at length of the dangers our financial system is facing today, the biggest problem is the erosion of trust, and it is the creeping shadow behind every negative headline you read. Let's take a look at what I mean:
From Yahoo Finance: Investment Firms Tap Fed for Billions
WASHINGTON (AP) — Big Wall Street investment companies are taking advantage of the Federal Reserve's unprecedented offer to secure emergency loans, the central bank reported Thursday. The lending is part of a major effort by the Fed to help a financial system in danger of freezing.

Those large firms averaged $13.4 billion in daily borrowing over the past week from the new lending facility. The report does not identify the borrowers.

The Fed, in a bold move Sunday, agreed for the first time to let big investment houses get emergency loans directly from the central bank. This mechanism, similar to one available for commercial banks for years, got under way Monday and will continue for at least six months. It was the broadest use of the Fed's lending authority since the 1930s.
In The Fed's Mistakes – How Deep In It Now?, we raised the idea that every facet of our prosperous financial system is wired together by use of debt. That credit continues to evaporate as the largest institutions slow down or eliminate lending to each other.
…the banks worry about lending to each other for 2 reasons: 1) They need all available capital on hand to cover their growing losses 2) They worry that whomever they lend to is actually insolvent and will never repay.
This erodes the trust inherent in any credit / lending system. If you cannot trust the borrower to repay, there is not credit. This can be a self-reinforcing cycle, where the basic fundamentals that we depend on for the economy to run can become disabled.
From Canada's Report On Business (via Mish Shedlock): Global capitalism teeters on the brink
We've moved from a world of risk to a world of uncertainty

The rules of the game have now changed. Our global financial system has become so complex and opaque that we've moved from a world of risk to a world of uncertainty. In a world of risk, we can judge dangers and opportunities by using the best evidence at hand to estimate the probability of a particular outcome. But in a world of uncertainty, we can't estimate probabilities, because we don't have any clear basis for making such a judgment. In fact, we might not even know what the possible outcomes are. Surprises keep coming out of the blue, because we're fundamentally ignorant of our own ignorance. We're surrounded by unknown unknowns.
This nicely sums up the problems we have. It only takes a few time where outcomes defy expectations and the normal human mind begins to rethink those expectations. Once expectations change, and people being to believe that they cannot depend on outcomes, their mindset changes. Trust is lost and everyone starts waiting for the next unpleasant surprise. This is not limited to Wall Street or corporate board rooms. The greater public mood is shifting away from the optimism and the ambitions of the past 5 years into a more defensive mental state.
This expectation of the "next bad thing" can be very powerful, especially to people who might have millions or billions at stake, as we see from the Times Online in UK: HBOS: Malicious traders in the City try to topple the Halifax bank
Stock market manipulators yesterday tried to bring down one of Britain's biggest banks by spreading false rumours through the City.

The authorities believe that the fear and uncertainty in financial markets are allowing unscrupulous traders to make multimillion-pound profits by whipping up hysteria about the stability of big banks.
With further detail via the Scotsman: Lies and rumour: How rogue traders triggered a £3bn fall in HBOS shares
HBOS, Britain's biggest mortgage lender, bore the brunt of a day of rumours, with a wave of selling sending its shares down 17 per cent at one point to a record low of 398p, wiping more than £3 billion off its stock market worth.

The Bank of England made the unprecedented move of denying any suggestion HBOS had turned to it for emergency funding.

Stocks endured a day of volatility, as Tuesday's euphoria over the interest rate cuts in the United States proved short-lived. As the turmoil showed no sign of abating, Alistair Darling, the Chancellor, moved to reassure people that the UK's economic growth plans remained on track.
Panics like these were once a lot more common before the emergence of our modern banking and financial systems. But this story clearly shows the erosion of trust: rumors started the Halifax was in trouble, and given the events of the past 18 months it was very easy to believe. Even denials by the bank management and the Bank of England itself were not entirely successful in quelling concerns by investors, share holders and depositors.
Clearly the trust that is essential for the financial markets to work correctly is starting to break down here and abroad. Should this continue or worsen, it has the potential to compound whatever correction may take place.
Category: Credit Backlash, Economics, Main, Recession Watch
Bruce Henderson is a former Marine who focuses custom data mining and visualization technologies on the economy and other disasters.