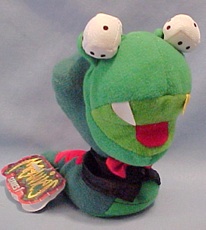 Evil Bruce has been missing from this site for a few weeks, and I apologize for that.
Readers of this site know that my primary focus is using new software tools to solve big, ugly business problems. Fortunately for my team the number of problems that are big and ugly seem to be expanding rapidly.
We are taking on new tasking to help a few large banks in the eastern United States and a trans-national energy produce. This is in addition to our existing build-out list that includes a mashup for managing the cash inventory for several Las Vegas casinos.
Meanwhile, the credit collapse continues, nations of the world find out that turning your staple foodstocks into fuel might not be such a good plan, global warming disappears, we are still short a sunspot cycle and the 2008 election is still striving to be relevant.
We are still hoping to get FDIC data for what promises to be a disastrous first quarter for US banks, and when we do we will report it here in it's glorious charted detail.
Category: Commentary, Main, Personal
Bruce Henderson is a former Marine who focuses custom data mining and visualization technologies on the economy and other disasters.