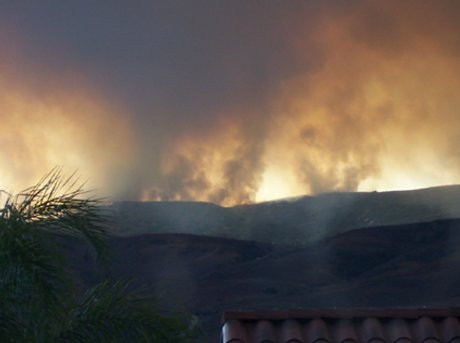 [10/06/2013 — NOTE: For those landing here via search engines, this post is from October 2008 and does not refer to the October 2013 Camp Pendleton fire.]
October returns, and days before our first real Santa Ana wind event, we get our first good sized fire. This one is burning on the south west side of Camp Pendleton. At present there is not any danger to any structures, as it is burning in a weapons range on the base.
The smoke column can be seen as far south as Solana Beach, and there are reports of ash fall in Fallbrook.
From the Marine Corps Times:
OCEANSIDE, Calif. — Helicopters took to the skies to fight a wildfire that flared up Wednesday afternoon in the dusty hills near Marines Memorial Golf Course in Camp Pendleton's southern section.

More than 100 acres were burning in late afternoon in training areas between the Camp Pendleton Marine Corps Air Station and the golf course. Staff Sgt. Jesse Lora, a base spokesman, said the fire wasn't threatening any buildings or structures.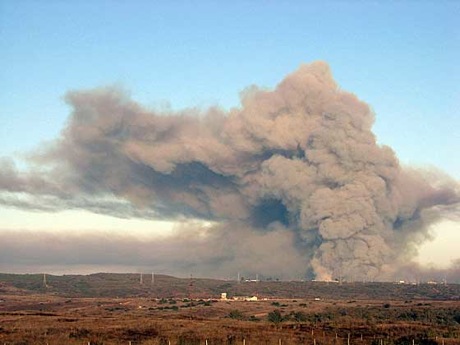 From the OC Register:
CAMP PENDLETON – Firefighters were battling a 150-acre brush fire that broke out on a training range near the Oceanside end of the 125,000-acre Camp Pendleton Marine Corps base this afternoon.

The fire was reported on Range 401 on at 3:35 p.m., said Marine 1st Lt. Tom Garnett.

The cause of the fire was being investigated, Garnett said. Thick plumes of smoke could be seen from the Oceanside area up to northern Orange County.
They also include the following map.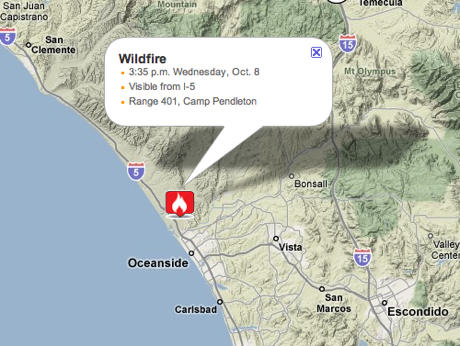 Winds right now are fairly calm and blowing inland from the sea, so there is not a threat at the moment that this fire will turn into a reprise of the Witch Creek Fire of last year. At present there is a swarm of aircraft attacking the fire, as well as many able Marine hands working to contain it and put it out.
More information on this if something develops.
UPDATE

Excellent photos from someone near the fire over at Jon's Geek Stuff, including the one below: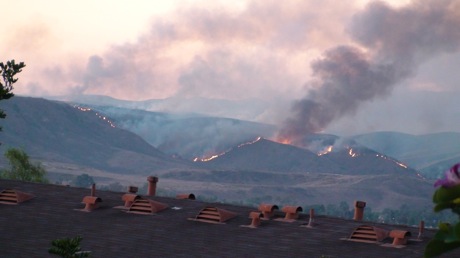 UPDATE 2

I created a better map that shows the wind direction, the burn area and the smoke plume. Again, the wind is light and from the ocean, so this fire is not an aggressive mover like the October fires of 2007. It is a good warning for this weekend's predicted Santa Ana wind event. Map was created 7:30 PM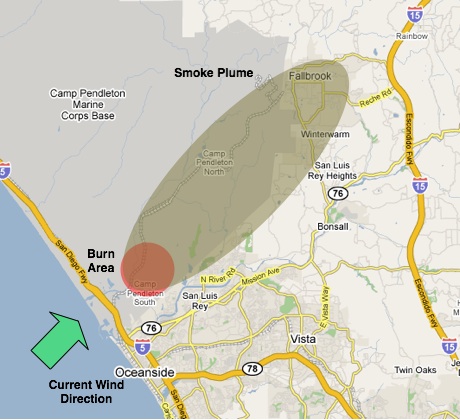 And of course my fellow San Diego fire trooper is covering this over at Barboni.org.
Update – 8:40 PM

Winds have shifted, now coming out of the North, so the fire is burning slowly south towards the populated areas of Oceanside and Vista. Time for North County fire teams to beat this thing down.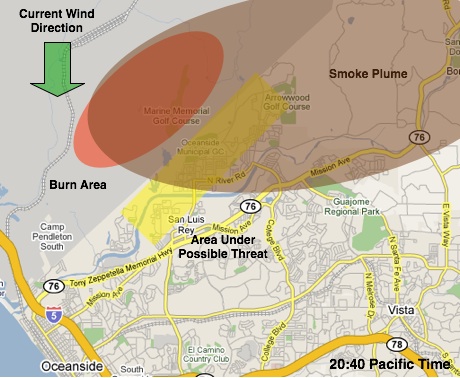 A brief word to everyone who can see the orange glow in the sky north of us in San Diego county. The fire is going to look much more ominous at night (just like last year) because it will be much more visible. The good news is the winds while out of the north (pushing the fire south towards Oceanside and Vista) it is very light and not really a factor. So don't expect any fast leaps like the Witch Creek, Rice Canyon or Poomacha fires.
Update – 9:25 PM

First off – fantastic Twitter use by Nate Ritter and Barboni can be found here: Nate Ritter's Twitter They are updating frequently!
Late word from folks living near the base in Oceanside is that the flames have really died down, and it's mostly smoke at this point. From the NBC San Diego web site:
I live just outside the back gate on Vandergrift and have been watching the fire for several hours through binoculars. It really started blazing up between 7-8:30pm but now at 9 I see it has died down quite a bit. It is still quite a ways away from the Civilian part of town near Douglas and Vandergrift. It basically burned around the perimeter of the on-base golf course and climbed the canyons. I will be checking again before going to bed but I think this one is going to just char some open land and settle down. Before Sunset I saw the wild horses being corralled by a lone Cowboy coming down one of the ridges. Was quite a site to see in the back drop of the orange haze and sunset.
I will post more news if something further happens with this fire. For all in San Diego, think of it as a wake up call for this month's fire season. Here's to hoping we get by with just this warning for 2008.
If you can't get enough fire photos – Mike 68's flickr photo stream is full of excellent shots of the burn
Category: Main, San Diego Fires
Bruce Henderson is a former Marine who focuses custom data mining and visualization technologies on the economy and other disasters.