Snow in October?
I am currently in Scotland researching family history. After spending the weekend in Glasgow, it's up to Caithness. My Henderson family is from the Dunbeath area, on the east coast of Scoland in the far north.
I drove north through Inverness in a fairly potent snowstorm. Seriously, if any of you have any global warming to spare, please send it to northern Scotland! The locals in Wick (where I am encamped at the marvelous Mackay's Hotel) claim this is unusual in recent history, but in the 1700's this would not have been so unusual.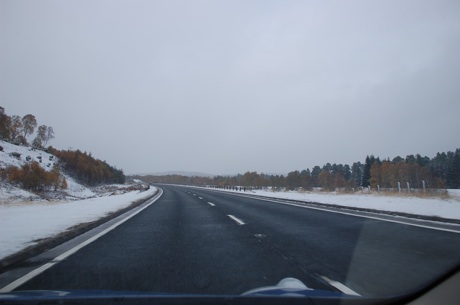 (view out the front of the car as I drove north)
===========================
Bruce Webster here. To show that Bruce Henderson's report is not an isolated cold spot, here's the weather report for the British Isles (hat tip to Samizdata):
National Forecast
Overview
Unseasonably cold with night frost and wintry showers.
This Evening and Tonight:
Unseasonably cold everywhere with a widespread frost tonight, especially inland. Sleety weather too across southeast England and northern Scotland, with some snow on higher ground. Occasional showers of hail or sleet near Irish Sea coasts. Gales across northeast Scotland.
Wednesday:
Remaining cold with thickening cloud, rain and hill snow spreading from the west to affect much of western Britain by the end of the afternoon. Fine but cold further east.
Outlook for Thursday to Saturday:
Cold and rather windy for the next few days. The stiff northeasterly wind bringing a mix of sunshine and showers. More persistent rain likely in the southeast at times.
Category: Main
Bruce Henderson is a former Marine who focuses custom data mining and visualization technologies on the economy and other disasters.