I am sad to report that some of the leading indicators show that the second wave of the ongoing financial crash is getting ready to start. In spite of the fact there was a huge rally back above 8000 on the Dow late Friday, the stock market is not what is driving this thing. The next big shock could be a few days to several weeks away. But first, some perspective on how far we have already come.
First, this graph from Doug Short: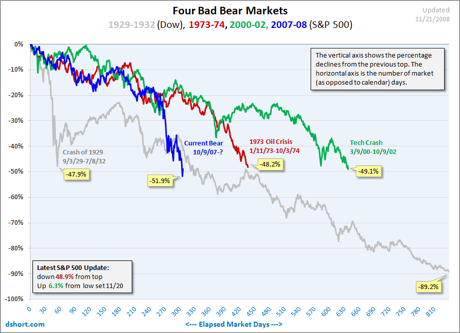 Click on the graph for a larger / sharper image.
It shows that in percentage terms, the current market crash has exceeded the 1973 oil crisis, the tech crash of 2000 and the first leg down on the great depression.
Category: Credit Backlash, Economics, Main, Recession Watch
Bruce Henderson is a former Marine who focuses custom data mining and visualization technologies on the economy and other disasters.