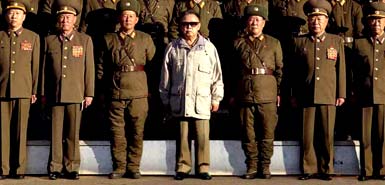 The UK Times has the above photo recently released to show that the "Dear Leader" (no, not Obama!) is recovering from his stroke and doing well. The photo shows Kim out paling around with his soldier buddies, having a good time.
But the photo has more in common with the cover of "Abbey Road" than anything I have seen in recent years. Take a closer look, the shadows from the legs of the soldiers show the sun in one place, and the Dear Leader is casting quite a different shadow.
During the Soviet era, when leaders of the state would be seriously ill or dead, these kind of strange things would start to crop up. They would fill the gap between the leader's actual demise, and its announcement. This would allow the replacement leader to consolidate power and get ready to take over.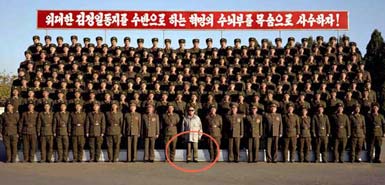 No word on if the Korean caption of the photo reads "The Walrus Is Kim".
Category: Main
Bruce Henderson is a former Marine who focuses custom data mining and visualization technologies on the economy and other disasters.