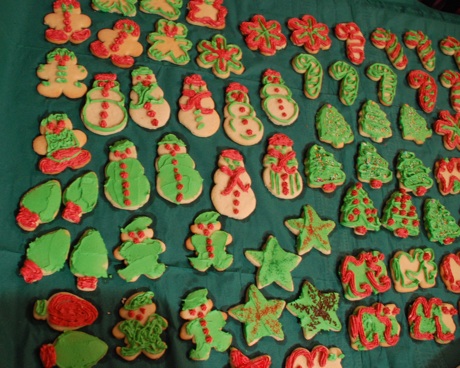 In what has become a holiday tradition at our house, we have once again made several thousand Christmas cookies to send to friends, family and random people serving in far away lands.
I come from a long line of cookie makers, with my mother and grandmother being high practitioners of the art. In years past Mom would load up tins of cookies to give to our elderly realtives a day or two before Christmas in what became known as the "Geriatric Run".
This year, I have had some problems getting the cookies to come out the way I like them, in part because of the dry, warm weather that persists in Southern California.
I had made several hundred sugar cookies, and had them set aside in the refrigerator. I made a variety of shapes including snowmen, trains and our favorite the "Christmas Cactus". I went on to making "spritz" cookies, which were suffering some of the same problems that the sugar cookies did, puffing up a bit much and coming out more crunchy than I like. I remarked to Tammi that "The camels are not coming out right!", meaning the camel die shape on the spritz press.
Well, the next day after work, Tammi has been busy decorating sugar cookies with different color frosting, and there are dozens of them laid out on the table for the frosting to dry a bit. I looked over all the shapes, and they looked really good, but a few of them were quite odd.
I picked one up and looked at it. Tammi had made the outline of two eyes and two legs on the shape. I held it up to here and asked "What is this one?". She smiled and said "that's one of those camels you were having such trouble with, didn't they turn out ok after all?".
I began laughing and flipped the cookie the other way to show her (frosting side away from her). She exclaimed "Oh damn!" as she recognized that she had drawn camel shapes on my trains.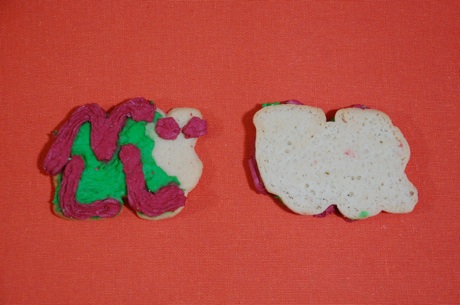 And so now we have a new Chirstmas cookie shape to enjoy… the "Freight Camel"! Photo below is two of them on the cookie decorating assembly line, ready to pull their first string of cars over the desert.


Bruce Henderson is a former Marine who focuses custom data mining and visualization technologies on the economy and other disasters.