For those of you who missed it, in this downward spiral we are now enduring, the amount of leverage (read, debt) is directly related to how fast your bank is going to go under.
Now from a blog named Infectious Greed, comes this chart extracted from a Bank of Canada report: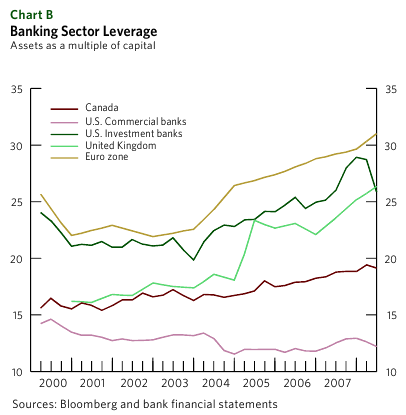 So according to the Bank of Canada, the banks in the EU have the highest ratio of debt to assets, with the US investment banks (like Goldman) coming up behind but shedding debt as fast as they can. Troublesome for the UK is that they continue to ramp up, and will soon overtake the Wall Street zombies in the amount of debt.
This charts, while informative, does not show the real danger zones: the banks in China, India, Brazil and Russia. My prognosis is the next big leg down will come to public light as a handful of countries, possibly including a big one, will follow Iceland into financial doom.
Category: Credit Backlash, Economics, Geopolitics, Main, Recession Watch
Bruce Henderson is a former Marine who focuses custom data mining and visualization technologies on the economy and other disasters.