I grew up in a family that always subscribed to Time magazine, and I started reading it at a fairly young age. But when I went off to college in 1971, I decided to conduct an experiment. At that time, the three major weekly news magazines — Time, Newsweek, and US News & World Report — offered cut-rate, nine-month subscriptions to college students, so I subscribed to all three and read all three every week.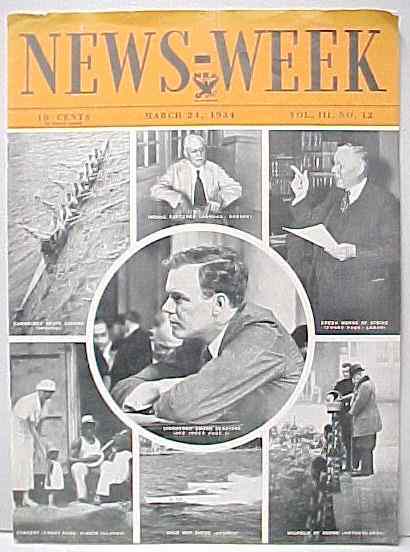 All this, of course, was pre-cable, pre-CNN, pre-internet, so your only news sources were typically (a) the big three networks (ABC, NBC, CBS), (b) these three news magazines, and (c) your local newspaper. And unless you lived in a major city (such as New York or Washington DC), it was really just the first two that spoke authoritatively on major national and international issues. Since most families would listen to just one network news show and subscribe to just one of the three news magazines, your source of news and outlook was pretty limited.
So reading all three of these news magazines each week throughout my freshman year of college was an enlightening experience. Though each magazine presented itself as authoritative and objective, it quickly became clear that these three magazines often differed on what they considered important stories, what they considered to be relevant information or even what they considered to be solid facts.
At this same time, I was taking a "Composition & Reasoning" honors freshman English class, in which we had to study syllogisms, logical fallacies, and so on. So the logical weaknesses, loaded language and politicial slants in many of the "news" stories became quickly apparent. By the end of my freshman year, it was clear to me that Time and Newsweek in particular had a liberal slant, while USN&WR had a center-right slant (though USN&WR appeared to make a greater effort to be more neutral in its news reporting).
Notwithstanding all this, I subscribed to Newsweek for decades, simply because I liked the writing and overall coverage in it better, even though its biases became more pronounced over time. However, I abruptly canceled my Newsweek subscription back in 2005 when it falsely reported that a US guard at Guantanamo Bay had desecrated a Koran, sparking riots and deaths worldwide.
All of this leads into Howard Kurtz's observations on Monday about how Time and Newsweek are, in effect, jettisoning any pretense of objectivitity and speaking with an openly liberal voice:
The rival editors are turning out weeklies that are smaller, more serious, more opinionated and, though they are loath to admit it, more liberal. They are pursuing a more elite audience, in print and on the Web, abandoning the old Henry Luce notion of catering to the masses. It is nothing less than a survival strategy.

Morale in both shops has been devastated as staffers complain about a blurred identity, lack of direction, management snafus and outsourcing to big-name writers that has left them wondering if reporters still have much of a role. . . .

[Rick] Stengel [editor of Time] says his goal is to "make Time lead the conversation, not follow it. To speak stronger with a point of view. To mix more analysis with reporting. Not to ask questions, but to answer them on the cover" — as with this week's story, "Why Israel Can't Win." . . .

The shift toward analysis carries an ancillary benefit: It is cheaper than shoe-leather reporting. Each magazine's editorial staff — 215 for Time, fewer than 200 for Newsweek — is about half the size it was a decade or so ago. But both editors say even their opinion pieces are built on gathering facts. "If you don't have new information, break stories, you do find yourself simply commenting on stories other people break," [Jon] Meacham [editor of Newsweek] says.
Read the whole article. Kurtz points out that US News & World Report no longer has a print edition; I suspect that Time and Newsweek will be gone from print in another 5 years, though — as with Life, a weekly photomagazine that I read faithfully as a kid, but which ceased printing weekly in 1972 — the names themselves may live on for decades. We shall not see their like again.  ..bruce w..
Category: Commentary, Journalism, Main, Writing
Webster is Principal and Founder at Bruce F. Webster & Associates, as well as an Adjunct Professor of Computer Science at Brigham Young University. He works with organizations to help them with troubled or failed information technology (IT) projects. He has also worked in several dozen legal cases as a consultant and as a testifying expert, both in the United States and Japan. He can be reached at bwebster@bfwa.com, or you can follow him on Twitter as @bfwebster.