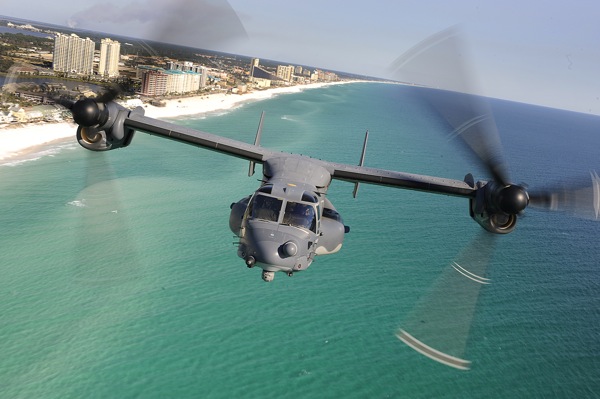 A nice photo of the special ops version of the Marine Corps Osprey, courtesy of Defense Link. This bird has been adapted to search and rescue, or recovery of people in the wilds. This photo is from a training mission over the Florida coast.
The Osprey has been a very ambitious project that has taken more than a decade to come to fruition. It successfully combines the vertical takeoff, landing and hover capabilities of the helicopter with the forward flight characteristics of an airplane. The key to this magic is placing the engines and the props at the end of the wings, and giving them the ability to pivot forward for normal aircraft flight, up to vertical to hover. After years of development delays and multiple deaths of Marines working with early prototypes that crashed, the Osprey is beginning to show its incredible value to the warfighters.
Bruce Henderson is a former Marine who focuses custom data mining and visualization technologies on the economy and other disasters.