This took a bit longer than I expected, and there's still a tremendous amount of movement in the value itself, but Rasmussen today recorded its first negative value for the Daily Presidential Tracking Poll since President Obama took office. This value is actually calculated by subtracting the percentage who strongly disapprove of Pres. Obama's performance from the percentage who strongly approve of his performance. Here's a chart from Rasmussen itself that shows the convergence and then crossing of those two groups: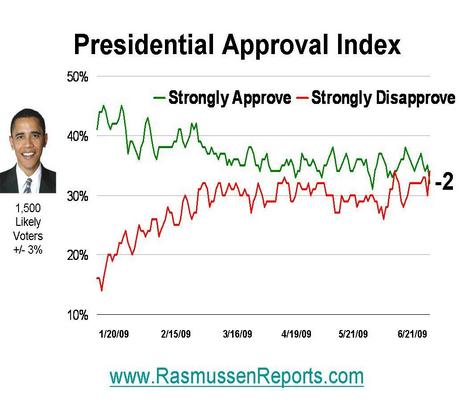 Interestingly, the actually division between the overall approve/disapprove numbers has been pretty even for some time — it's been roughly 55/45 since March, with a little movement in both directions. Given the margin of error (+/- 3%) and the wild swings over the past few months, I'm not sure how significant the first negative value is.
On the other hand, if this were five months into the McCain administration with the same result, I'm sure it'd would be front-page, above-the-fold news on the NY Times and the Washington Post. ..bruce w..
Category: 2008 Election, Main, Obama Administration
Webster is Principal and Founder at Bruce F. Webster & Associates, as well as an Adjunct Professor of Computer Science at Brigham Young University. He works with organizations to help them with troubled or failed information technology (IT) projects. He has also worked in several dozen legal cases as a consultant and as a testifying expert, both in the United States and Japan. He can be reached at bwebster@bfwa.com, or you can follow him on Twitter as @bfwebster.