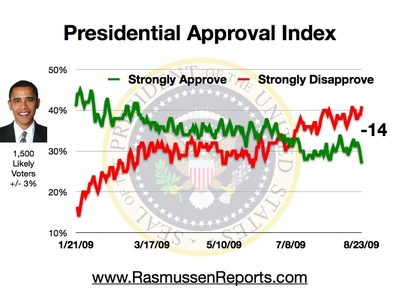 As Rasmussen reports this morning:
The Rasmussen Reports daily Presidential Tracking Poll for Sunday shows that 27% of the nation's voters Strongly Approve of the way that Barack Obama is performing his role as President. Forty-one percent (41%) Strongly Disapprove giving Obama a Presidential Approval Index rating of -14. These figures mark the lowest Approval Index rating yet recorded for this President. The previous low of -12 was reached on July 30 (see trends).

Prior to today, the number who Strongly Approved of the President's performance had never fallen below 29%. Some of the decline has come from within the President's own party. Just 49% of Democrats offer such a positive assessment of the President at this time.
Of course, part of the trick here is that those on the Left and those on the Right disapprove for different reasons — a phenomenon that George W. Bush knew well. Also, Obama is catching a lot of flack for the idiocies coming out of his own party in Congress — which, again, Bush also experienced. My strong belief is that if the Republicans were in control of Congress, Obama would have high approval ratings right now, because — much as with Clinton — he would be forced to govern towards the middle yet be able to blame that on Congress.
The Democratic Party is terrified that 2010 is going to look much like 1994. I sincerely hope that's the case, though I don't underestimate the ability of the Republican party to screw things up totally. I don't seen anyone in Congress with the subversive leadership that Newt Gingrich had back in 1993. On the other hand, Gingrich accomplished the Great Purge of 1994 without the Web, blogs, social media, or Fox News, and with the Mainstream Media pretty much still controlling the discussion of what "news" was important and what wasn't.
Should be interesting. ..bruce w..
Category: 2010 Election, Idiot Congresspersons, Main, Obama Administration
Webster is Principal and Founder at Bruce F. Webster & Associates, as well as an Adjunct Professor of Computer Science at Brigham Young University. He works with organizations to help them with troubled or failed information technology (IT) projects. He has also worked in several dozen legal cases as a consultant and as a testifying expert, both in the United States and Japan. He can be reached at bwebster@bfwa.com, or you can follow him on Twitter as @bfwebster.