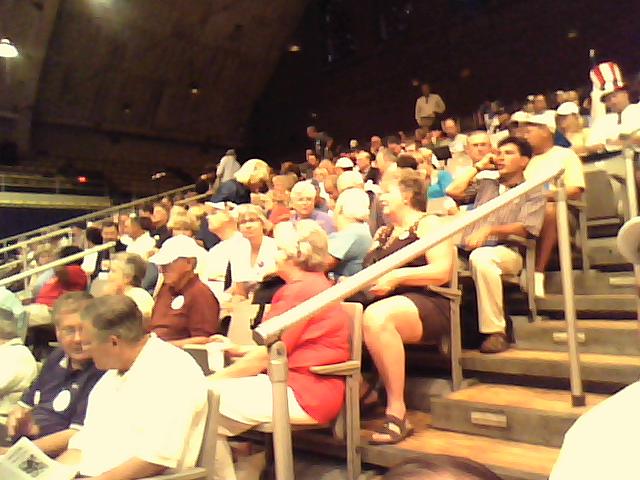 Sandra and I are sitting here in the DC Armory, a venerable (not aging well) structure out by RFK Stadium. This is where this morning's kickoff meeting for the 9/12 Taxpayer March on the Capitol is taking place.
This meeting is only for the truly committed. First, it's taking place Thursday morning, even though the March isn't until Saturday, and a lot of folks aren't showing up until tomorrow. Second, the DC Armory is out at the #$@-end of nowhere here in DC — no offense to the fine people who live out here, but it's not an easy place to get to.
It is a bit unnerving how well Sandra and I fit into the visual demographic of this group, which is to say, a lot of couples in their 40s to 60s, a bit hefty (apologies to all), and dressed casually (jeans, shorts, t-shirts, etc.). I suspect most of us here are either retired, self-employed, or willing to take a few days off from work to be here.
More in a while.
[UPDATE — 0922 EDT]
Mark Kibbe (President and CEO of FreedomWorks) says that this Saturday's march may be the single large fiscal conservative demonstration in Washington history. He then has us test out a text messaging system that FreedomWorks has set up so that they can use it during the march on Saturday.
Dick Armey, Chairman of FreedomWorks, is now giving opening remarks, followed by an introduction of Sen. Inhofe (R-OK).
Sen. Inhofe is now talking. His focus is on cap-and-trade and global warming. He notes that cap-and-trade would not only be expensive, it would have a net increase in CO2 emissions.
Next, Steve Malloy of JunkScience.com is talking about the science of climate change.
Dr. Wayne Brough of FreedomWorks is now talking about the economics of climate change. He notes that cap-and-trade is one of the worst things for limited government; in essence, it is a very complex form of government rationing.
Now the whole panel is taking questions from the audience. Sen. Inhofe says that the best attack on cap-and-trade is the economic argument. He also notes that the real impact of the conservative backlash will be felt at the 2010 elections.
Second panel on health care:  Sen. Jim DeMint (R-SC), Rep. John Shadegg (R-AZ), Dick Armey, and Max Pappas (of FreedomWorks).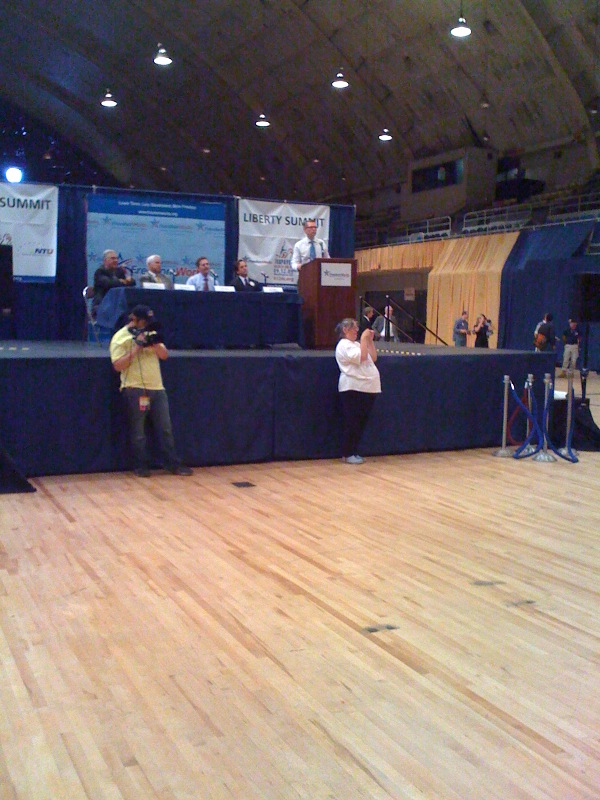 Sen. DeMint: "if you're here to disagree from Pres. Obama, he is going to call you out." (Laughter.) "Power seems to be shifting from the hands of politicians to the hands of Americans" who aren't happy with the way things are going. "There is no country that has done as much good in the world as we have, and we have nothing to apologize for."
Rep. John Shadegg: He's talking about specifics of the health care system.
Max Pappas: "A lot more Americans than Congressmen have read HR 3200. . . . There's not enough lipstick and eyeshadow out there to make that 1,000-page pig pretty." "[Obama] hasn't had a Republican to the White House to talk about health care since April. . . . Instead he continues to use his straw men to attack oppostion to health care." Review of some of the 37 Republican-introduce health care bills that Obama and the Democrats have ignored. "[Obamacare] hasn't gained popular support, because there's no right way to do the wrong thing."
More Q&A from audience (who, despite repeated pleas from Mark Kibbe to (a) be short and (b) ask a question, have been largely using the Q&A periods to make long speeches from the mikes). The general tenor of the questions is: how to do stop Obamacare and how do we get the Republican alternatives looked at? Shadegg: go to Republican Study Committee website to get copies. DeMint: Obamacare "is about government control of health care, make no mistake."
[1043 EDT: currently a brief break before the next panel starts]
Mark Kibbe: FreedomWorks decided to mount a constitutional challenge to TARP.
Last panel: Boyden Gray, Dick Armey.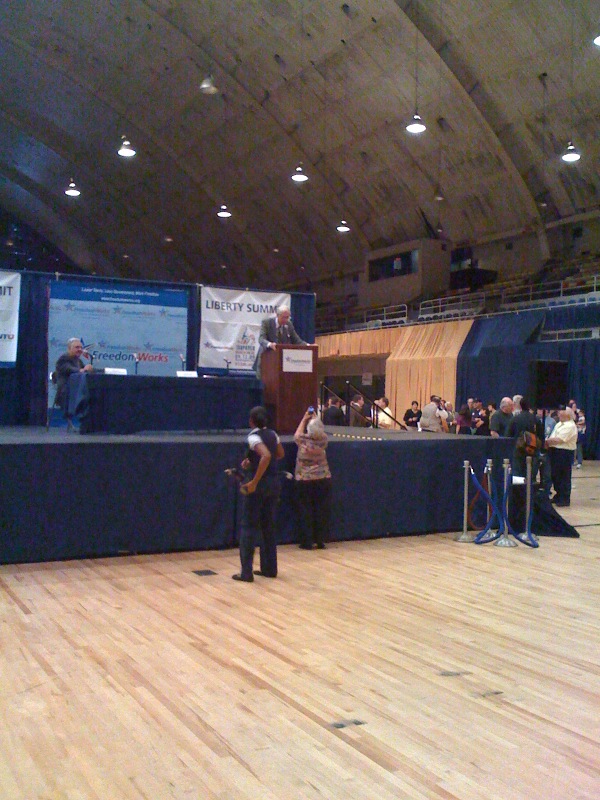 C. Boyden Gray: "I've never seen in Washington quite the crowd like this one developing." TARP "is the single biggest contributor to the economic mess we're in." "TARP was a creature that came about under the previous Administration, so I'm not being partisan here."  Is TARP constitutional? It isn't constitutional; there is nothing in it to constrain what the government does with the money; there are no limits on what the bill permits the government to do — a "non-delegation" problem. Believes the Supreme Court would find it unconstitutional. Notes that TARP prohibits (or tries to prohibit) court review of it. Congressional Oversight Panel has just issued a "devastating" review of TARP. "The biggest culprits [in creating the financial mess] were Fannie Mae and Freddie Mac" — interrupted by applause (interesting to note how many people are aware of Fannie and Freddie and see them as culpable).
Q&A: again, people hijacking mike to make speeches; first person is talking about SCHIP and health care. Q: what can we do to force the government to follow the Constitution? Gray: it is incumbent upon us to find the right case that makes the right argument — once the right case is found, organize to support the litigation. [BTW, the acoustics in here are lousy, between the PA system and large, echoing nature of the hall.] Dick Armey: "Settle down…you're going to upset the folks at MS-NBC." Q: Why can't you audit the Fed? Armey: three groups of people who think they have the right to spend other people's money: thieves, children, and Congressmen. Sam Johnson has a bill; contact him, then contact your own Congressperson.
Now organizational panel.
Mark Kibbe: "Not a single dime for this march came from big insurance companies or big pharma companies. Why? Because they're all cutting deals with the Obama Administration."
Brendan Steinhauser (FreedomWorks): metro to Capitol South (Orange/Blue line). "The organizations at this table are just as good as community organizers as Barack Obama." "We've been applying Saul Alinsky's Rules for Radicals against the radicals in Washington."
Andrew Moylan, National Taxpayers Union: How to deal with Congress. (a) Be polite. (b) Letting them know you're an actual person — given them personal background. (c) Have an agenda — know what you're going to say — ranting sessions don't help. (d) Be persistent. The staff may well not be that interested.The only way to get their interest is to make sure that this may affect their re-election. (Text 'FIGHT' to 67292 for NTU.)
Paul Teller (Exec Director of Republican Study Cmte): background of RSC and Rep. Tom Price. The three Ps of effective communication w/Congress: Personalization, Precision, Passion. Congress does operate by anecdote — give us powerful, personal, emotional stories. The personal story is what gets the attention; it's what Congressmen and staff re-tell. Stay away from form letters. Precision: get to the point, be brief, boil down.  Passion: be passionate; don't scream or use profanity, but let the emotion bubble up and give it to us. Don't be shy to use modern technology: video clips, social networking tools, rallies: "Everybody knows you're in today this weekend." Sign up for RSC e-mails at our home page.
Jennie Beth Martin (Tea Party Patriots): three letter: MNM. Message: this is important. This about what  your message is and how you're going to state it. Network: look at your personal network and see if this issue will affect them. Think outside of your city and outside of your state. Means to communicate your message to your network: figure out how you're going to get your message out, and what the take-away action item. Tea Party movement started with 22 people on a conference call. Result: 800 tea parties on 4/15 with 1.2 million people. We need to make sure Congress and the President understand that we're not "playing games".
Q&A session. Oops! More soapboxing at the microphones. And this is a woman who stood up at one of the earlier sessions. A question about NTU support for fair tax/flat tax reform. And another soapbox. And another.
[Wrapping up for now. My Acer is getting low on battery power.]
Category: 2010 Election, Climate Change, Congress, Credit Backlash, Creeping socialism, Economics, Healthcare Reform, Main, Obama Administration, Rightist organizers, Sea of deficits, Stimulus, US Politics, You Say You Want a Revolution?
Webster is Principal and Founder at Bruce F. Webster & Associates, as well as an Adjunct Professor of Computer Science at Brigham Young University. He works with organizations to help them with troubled or failed information technology (IT) projects. He has also worked in several dozen legal cases as a consultant and as a testifying expert, both in the United States and Japan. He can be reached at bwebster@bfwa.com, or you can follow him on Twitter as @bfwebster.