9/12 March update: It's official: I am on the speaker's list for the 9/12 Rally in front of the US Capitol this Saturday. Given that some 40+ speakers will talk over a 4-hour period, my three-minute discourse will likely get buried in the hoopla. But, hey, it'll be fun. Throw the bums out!
I hope to get to a Fedex/Kinkos and make a large sign with these two graphs on either side: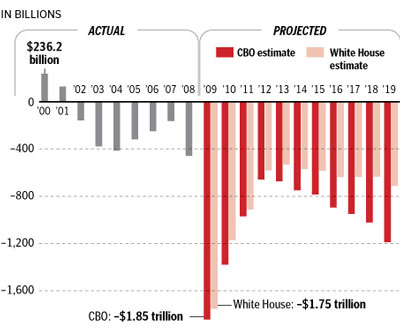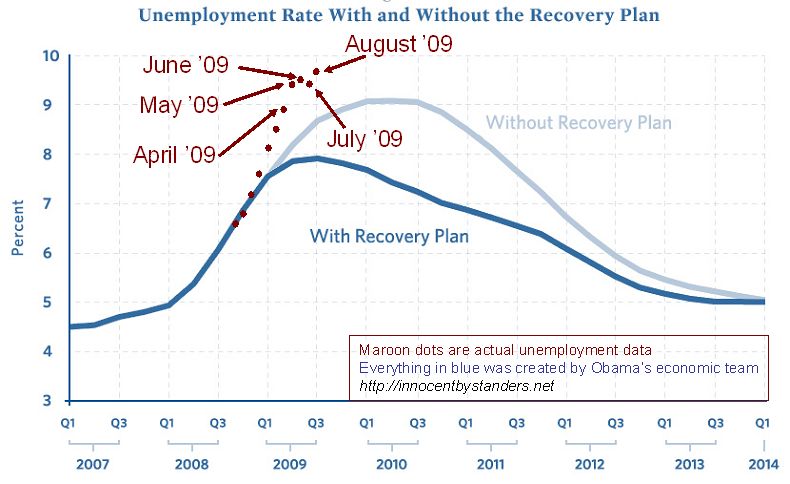 That about sums it up.
ITEM: Even as the mainstream media runs quickly away from the Van Jones story, the first real fractures within the White House continue to appear as a direct result. I cited a few back on Monday (first ITEM under "Morning Links"), but the Prowler at the American Spectator shows that the divisions are far from superficial or passing (emphasis mine):
When confronted with the 2004 9/11 truther petition by the White House communications staff, Jones, according to sources, initially blamed his staff at the Ella Baker Center for Human Rights. The petition was spun by the White House as Jones simply not having read the material closely. Within an hour of the White House statement with Jones's apology, another document came to light indicating that Jones had helped organize a 2002 truther protest march in San Francisco. Jones, according to White House sources, denied any involvement. "It's clear we [the White House] don't know enough about him," said a White House source in the Counsel's office, who spoke on Saturday morning before Jones resigned, and did so anonymously in the hopes that information about concerns raised by the counsel's office about Jones might push him out of the Administration.

The source inside the White House Counsel's office says that their office had recently begun to look into whether Jones had recently had contact with this friends and former co-workers at Color for Change, the leftist group Jones helped to found, and which launched the advertiser boycott against Fox News host Glenn Beck. Color for Change ramped up its protest of Beck after he began attacking the Obama Administration's "Czar" programs, including Jones. The White House legal office was also looking into the timing of a website that was launched late Friday, VanJones.net; earlier in the week the site had been "Under Construction."
Go read the whole thing. The Left is ranting about the "lies and smears" that drove Jones to resign, but apparently the White House Counsel's office was anxious to push him out as well. Hat tip to Instapundit.
Hmm. Must be a slow news day. That, plus I've been busy with my analysis of HR 3200 (the House's Health Care Reform bill) from a systems architecture and engineering point of view (here is Part I and here is Part II).  I'll be flying to DC today, so don't expect much more here.  ..bruce w..
Category: Main
Webster is Principal and Founder at Bruce F. Webster & Associates, as well as an Adjunct Professor of Computer Science at Brigham Young University. He works with organizations to help them with troubled or failed information technology (IT) projects. He has also worked in several dozen legal cases as a consultant and as a testifying expert, both in the United States and Japan. He can be reached at bwebster@bfwa.com, or you can follow him on Twitter as @bfwebster.