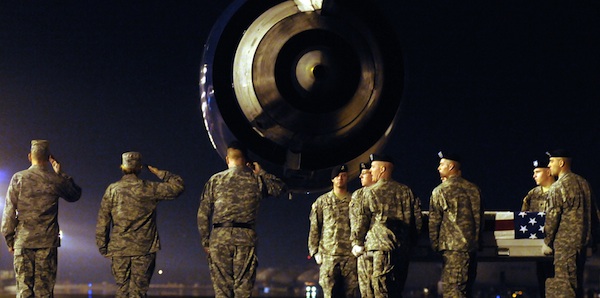 I have largely put presidential politics on "mute" since March or so, it is clear that given the dynamics of the current government, the Democrats have a clear field and may do as they wish for now. As such there has been little going on that I would single out for compliment.
But today is another day. I would like to give my sincere and deeply felt thanks to the president and commander in chief for paying respects to a man who gave his life so that others might have a chance at freedom.
From the Voice of America: Obama Attends Return of Fallen US Soldiers From Afghanistan
U.S. President Barack Obama made an overnight trip to a military air base in the state of Delaware to meet a plane carrying the bodies of 18 U.S. soldiers and civilian personnel recently killed in Afghanistan.

President Barack Obama salutes as a carry team carries the transfer case containing the remains of Army Sgt. Dale R. Griffin at Dover Air Force Base in Dover, Delaware, 29 Oct 2009 Mr. Obama took off from the White House lawn aboard the presidential helicopter late Wednesday night for Dover Air Force Base. The trip was revealed only to a small group of reporters on condition of secrecy.

The president held a private meeting with the families of the fallen Americans at a base chapel after his arrival.
I hope this goes some distance to improve the perception in the uniform ranks that the president "doesn't get it", as the morale of our forces, who are actively engaged in 2 conflicts at the same time, is the foundation of our victory in both campaigns.
There will be critics who state this was just a photo op, meant to deflect criticism, and that may be true. But for this act I can find no reason to be anything but thankful for his actions, and for his recognition of those who paid the ultimate price.
Category: Main, Obama Administration, US Politics
Bruce Henderson is a former Marine who focuses custom data mining and visualization technologies on the economy and other disasters.