I've avoided doing a lot of blogging on Climategate because so many other sites and bloggers are doing such a great job, while the Left gets increasingly shrill ("Pay no attention to the scientists behind the curtain!").
But a new critical point has been reached: the Warmist scientific elite are starting to turn on one another:
One of the scientists to whom the emails were addressed, Professor Michael Mann, the Director of the Earth System Science Center at Pennsylvania State University has moved to distance himself from some of the comments in the emails that suggest scientists did not want the IPCC, the UN body charged with monitoring climate change, to consider studies that challenged the view global warming was genuine and man-made.

Speaking to BBC Radio 4's The World Tonight, Prof Mann said: "I can't put myself in the mind of the person who wrote that email and sent it. I in no way endorse what was in that email."

Prof Mann also said he could not "justify" a request from Prof Jones that he should delete some of his own emails to prevent them from being seen by outsiders.

"I can't justify the action, I can only speculate that he was feeling so under attack that he made some poor decisions frankly and I think that's clear."

Prof Mann then argued however that there was "absolutely no evidence" that he too had manipulated data, while he also said "I don't believe that any of my colleagues have done that".
To quote Glenn Reynolds: heh.  By the way, Mann himself is under investigation by Penn State, which may help explain the hasty denials. Don't these scientists ever watch "Law & Order"? The first to cut a deal gets off easier.
UPDATE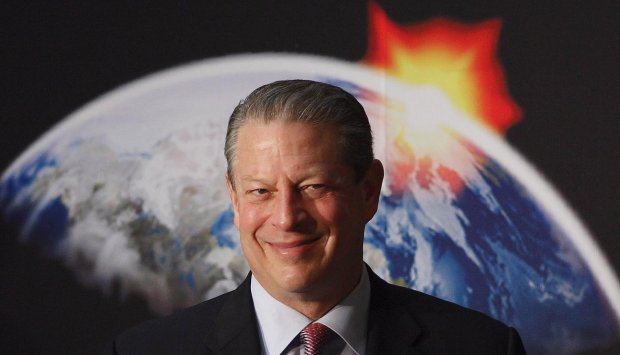 Oh, and Al Gore has just canceled his pay-per-view 'global warming' lecture at Copenhagen. Wonder how many of his slides in his "new multimedia show" were based on Climategate-tainted research?  Hat tip to Climate Depot. (P.S. The photo above is the one that accompanied the original Danish news article.)
YET ANOTHER UPDATE
Courtesy of the Anchoress comes this Ghostbusters clip that let the secret slip years ago:
I worked for 18 months at the Lunar and Planetary Institute, which back then was right next door to NASA/JSC, and while it was possibly the best job I ever had, it forever disabused me of the notion of science as untainted by ambition, greed, money, politics and personality conflicts. ..bruce w..
Category: Climate Change, Climategate, Environment, Idiot fringers, Main, Moment of Clarity, Science
Webster is Principal and Founder at Bruce F. Webster & Associates, as well as an Adjunct Professor of Computer Science at Brigham Young University. He works with organizations to help them with troubled or failed information technology (IT) projects. He has also worked in several dozen legal cases as a consultant and as a testifying expert, both in the United States and Japan. He can be reached at bwebster@bfwa.com, or you can follow him on Twitter as @bfwebster.