Go ahead, tell me the good lord does not have a sense of humor.
It looks like a major snowstorm is going to hit DC starting tonight, dumping up to 16″ of snow in the capital. As Webster can attest, DC siezes up with even an inch of snow, and at times in the 90s, rolled over and played dead for a week during a snowstorm of this one's predected size (16″ total).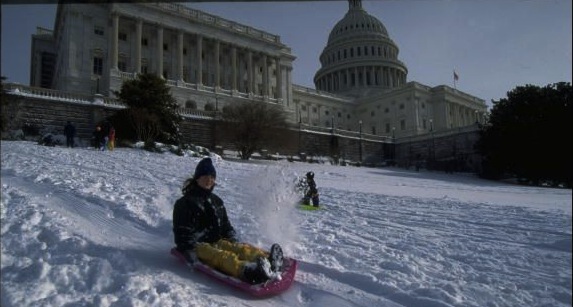 This is directly in the face of the Senates attempt at a 2:00 minute offense to pass the wreck of a healthcare bill before the Christmas recess. To have the party of global warming torpedoed by a snowstorm on their Marquee entitlement is just too funny.
From Accuweather:
Up to a foot of heavy snowfall this weekend for the Washington, D.C., metro area has the potential to impact President Obama's health care initiative, which is set to be voted on by Christmas.

The snow could delay travel for many senators, who will need to be in the nation's capital for what is expected to be a weekend full of several late-night and early-morning votes. The Senate may vote on health care as soon as Christmas Eve.

AccuWeather.com meteorologists are forecasting 6-10 inches of snow for the region, with potential for a foot or more as the storm continues to develop. The snow is set to begin late this evening and continue through the day on Saturday.

AccuWeather.com Chief Meteorologist and Expert Long-Range Forecaster Joe Bastardi said that the snowfall will be "paralyzing" from the Interstate-95 corridor and southeastward.

He also added the the eastern side of the Capital District will see blizzard conditions.

A spokesman for Congressman Bill Shuster (R-Pa.) said, "Washington [D.C.] is known as a place that gets three snowflakes and falls apart."
Senator Reed needed every minute between now and Christmas eve to try and get their vote in. Now, he gets a snowstorm instead. Merry Christmas you goofballs! Do us all a favor and go home instead.
Category: 2010 Election, Blizzard, Congress, Healthcare Reform, Main
Bruce Henderson is a former Marine who focuses custom data mining and visualization technologies on the economy and other disasters.