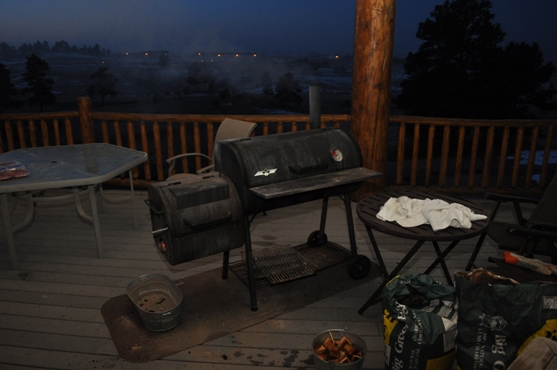 As noted below, we're having one of our Very Large Scale BBQs tomorrow (Saturday). I got up this morning at 0545 and fired up the smoker. While (as you can see) I use lump charcoal and soaked wood to do the actual smoking, I unapologetically started the fire in the firebox with MatchLight charcoal and charcoal lighter fluid — it's not easy starting a fire in the dark at 6200 feet above sea level and 18° F.
Here are the 5 briskets (~40 lbs total) that I'll smoke today: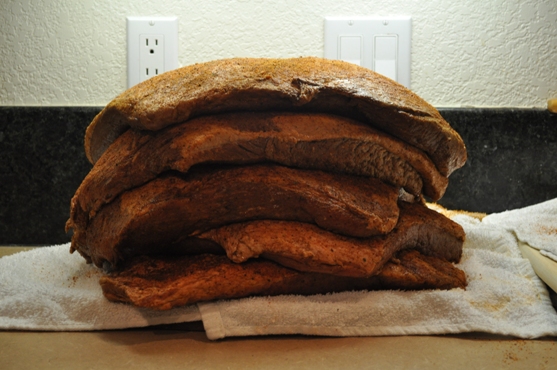 They've been marinading since Wednesday morning in John Henry's Texas brisket marinade (which I usually buy 2 to 3 gallons at a time). I gently blotted them off, then applied (surprise!) John Henry's Texas brisket dry rub. Three of the briskets are smoking right now; I'll smoke the other two later today. All five will get double-wrapped in heavy foil and stuck in the oven at 180° until they're served tomorrow afternoon.
I'm also smoking some elk steaks (marinading in a mix of brisket marinade and red wine), three bone-in turkey breasts (white wine, fresh basil, various herbs, and a cinnamon stick), and a leg of lamb (red wine, onion, garlic, basil, olive oil, salt, pepper).  Grilling will include chicken (boneless breasts, cut lengthwise, marinated in chipotle Tabasco sauce), hamburgers, hot dogs (as always, Hebrew National), and some veggies (asparagus, small sweet peppers, a few portabello mushrooms).
I had planned to smoke the elk steaks this afternoon with the remaining two briskets, but when I took them out of the marinade this morning, they turned out to be smaller than I expected (they were frozen together when I started marinading them two days ago). I don't want to dry them out — particularly since they're pretty lean to begin with — so I may smoke them for a little while just before the BBQ tomorrow and then finish them off on the grill. Right now, they're back in their marinade.
More later.  ..bruce w..
UPDATED 02/02/2010
OK, things got a bit too hectic to ever really update things. The BBQ was a success — we had probably 120+ people attend, and almost all of the food was eaten (we were left with maybe 5 lbs of cooked hamburgers and some unopened packs of hot dogs). The elk steaks and the tabasco chicken vanished very quickly, but even I was surprised when I carved up the last of the five briskets as things were winding down a bit, put it out on the serving table — and then saw that it was completely gone about a half hour later. Great fun, though Sandra and I were pretty exhausted the next day.  ..bfw..
Webster is Principal and Founder at Bruce F. Webster & Associates, as well as an Adjunct Professor of Computer Science at Brigham Young University. He works with organizations to help them with troubled or failed information technology (IT) projects. He has also worked in several dozen legal cases as a consultant and as a testifying expert, both in the United States and Japan. He can be reached at bwebster@bfwa.com, or you can follow him on Twitter as @bfwebster.