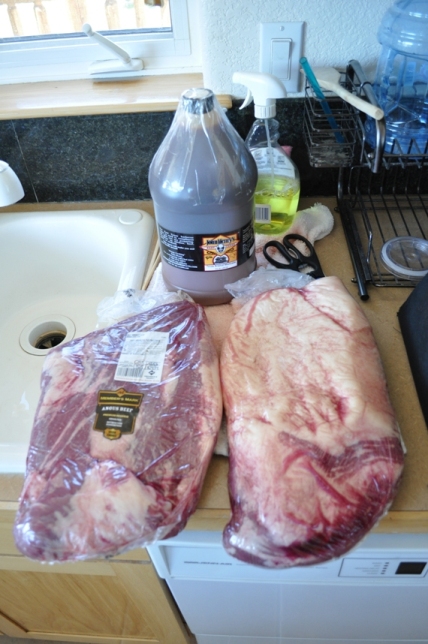 It's Wednesday afternoon, just over 75 hours before the VLSB (Very Large Scale Barbecue) is scheduled to start. I went out this morning over to Sam's Club to buy 50 or so lbs of brisket and ended up getting nearly 70 lbs instead — ten (10-) briskets in all. I like Sam's Club because their 5- to 8-lb brisket cuts have a nice balance between meat and fat (smaller cuts tend to be too lean, while the larger cuts are too fatty). I'm now in the process of putting the briskets into marinade to, well, marinade. I use John Henry's Texas Brisket Marinade (I buy 2 to 4 gallons at a time, mail-order).
I typically put 2 to 4 briskets into a Ziploc 10-gallon "big bag" along with roughly 1/2 gallon of marinade, squeeze most of the air out, seal it, and then put that bag inside of another 10-gallon big bag. I'll been turning these bags over several times during the next two days, so there is an opportunity to leak, the bag will leak.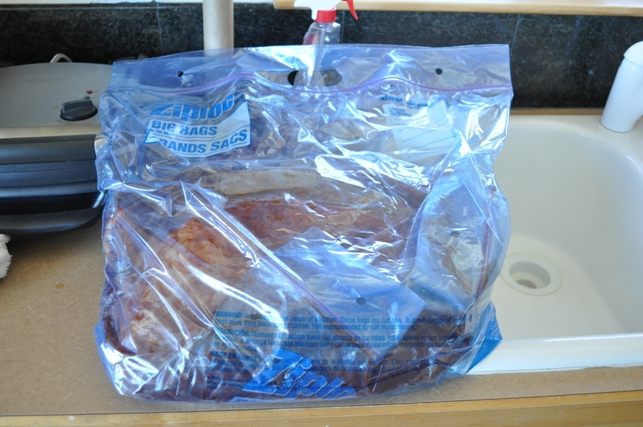 All the marinading briskets will be kept in my (aging) teak ice chest, a wonderful Father's Day gift Sandra bought me several years ago while we lived in DC. I'll keep it well-stocked with ice and will turn the bags over 2-3 times a day.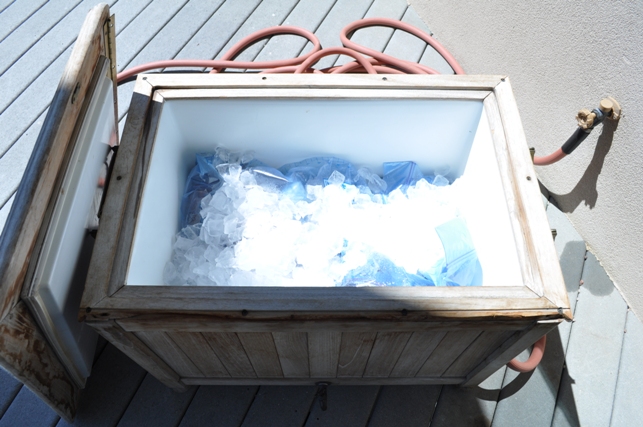 By the way, if the colors in the photos above are a bit blue and washed out, it's because I still had my Nikon D-5000 in "Sunset" mode — something I didn't realize until I had finished things up, moved the photos to my computer, and looked at them. On the other hand, it does take pretty sunset photos in that mode: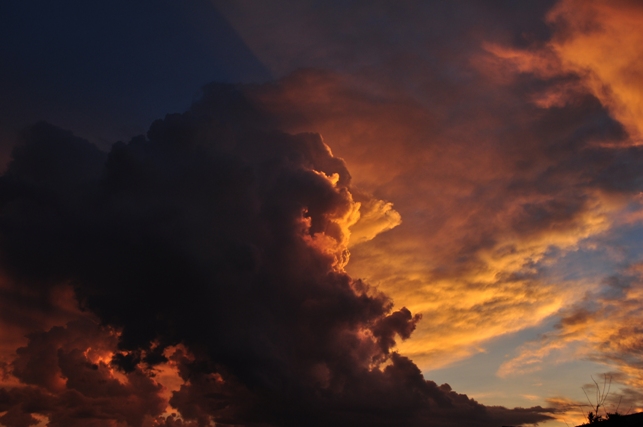 I'll probably post this and some other sunset photos as wallpaper next week. After the VLSB.  ..bruce w..
Webster is Principal and Founder at Bruce F. Webster & Associates, as well as an Adjunct Professor of Computer Science at Brigham Young University. He works with organizations to help them with troubled or failed information technology (IT) projects. He has also worked in several dozen legal cases as a consultant and as a testifying expert, both in the United States and Japan. He can be reached at bwebster@bfwa.com, or you can follow him on Twitter as @bfwebster.