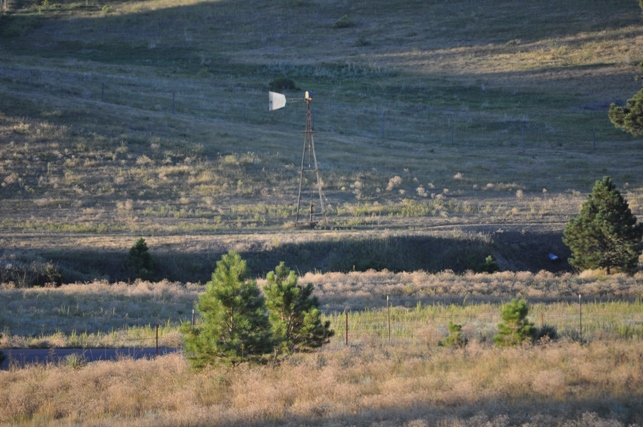 Overslept last night (despite the iPhone alarm I set) and woke up around 1 am. Not a problem: got the brisket out of the smoker, double-wrapped it, put it in the oven (at 200°) and went to bed.
Got up this morning at 6 am. Cleaned out the smoker's firebox completely; the coals are on a grate, and I had been shoveling out ash from time to time, but this let me get everything cleared out. Likewise, replaced all the aluminum drip pans in the smoker itself with fresh clean pans. Lit a new set of coals in a chimney, then pulled the last smoking items — three bone-in turkey breasts and a leg of lamb — from the ice chest where they had been marinading since…Thursday night? Friday morning? I don't remember.
I marinaded two of the turkey breasts in white wine with fresh basil and various poultry-type seasonings (sage, marjoram, rosemary, salt, pepper); the other turkey breast I marinaded in the same brisket marinade I on the brisket. All three turkey breasts have thick peppered bacon strips fastened via toothpicks as a way to help keep them moist early on; I will remove the bacon towards the end to allow the skin to brown and to help get the internal temperature up. The leg of lamb I marinaded in red wine, fresh chopped onions, fresh basil, garlic, salt, pepper, and olive oil; I've actually saved some of the marinade to baste it with while it's smoking. They're all on the grill now: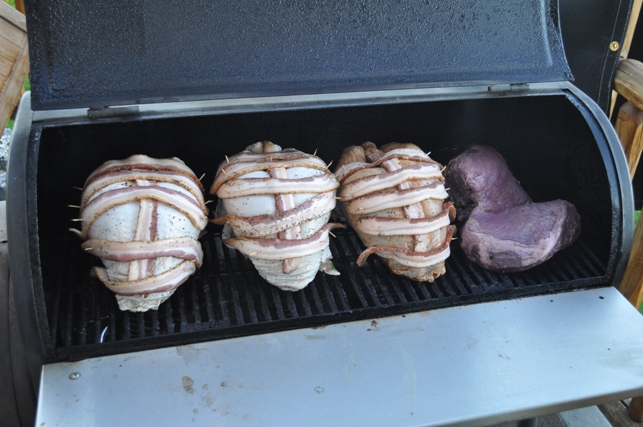 Right about now — the morning of — is when I start worrying that no one will show up. Sandra, my sweet wife, tends to worry the opposite: that everyone will show up. But we always get a great turnout, and Sandra always has a wonderful time once the first person walks through the front door.  ..bruce w..
Webster is Principal and Founder at Bruce F. Webster & Associates, as well as an Adjunct Professor of Computer Science at Brigham Young University. He works with organizations to help them with troubled or failed information technology (IT) projects. He has also worked in several dozen legal cases as a consultant and as a testifying expert, both in the United States and Japan. He can be reached at bwebster@bfwa.com, or you can follow him on Twitter as @bfwebster.