Yes, Dennis Kusinich is suing the House of Representatives Cafeteria for $150,000 because he bit into an unpitted olive:
The Cleveland Democratic congressman's lawsuit seeks $150,000 in damages from companies that operate the Longworth House Office Building's cafeteria.

It says he bought the suspicious sandwich wrap "on or about April 17, 2008," and eating it caused "permanent dental and oral injuries requiring multiple surgical and dental procedures."

"Said sandwich wrap was unwholesome and unfit for human consumption in that it was presented to contain pitted olives, yet unknown to plaintiff, contained an unpitted olive or olives which plaintiff did not reasonably expect to be in the food prepared for him, and could not visually detect prior to consumption," the lawsuit said.
Gotta be careful about those "suspicious sandwich warps". And I can't understand the fuss — wouldn't an unpitted olive be more natural and organic than a pitted one? For those of you who like to read lawsuit filings, here it is (PDF).
In more serious news, Megan McArdle — my favorite 6'+ female libertarian economist — has a perspective on last nights SOTU that didn't occur to me but that I agree with:
While watching the speech, I tweeted that "Obama sounds remarkably similar to the CEOs I used to listen to on earnings calls: the ones with mediocre EPS and a failing business model."  This wasn't a crack at Obama, or Democrats; it was a reaction to the content.  And after watching the responses, the impression lingers–indeed, maybe it's strengthened. . . .

So what do those CEOs do?  They spend a lot of time talking about their company's proud history, even if that history only stretches back a few years. They lavish extravagant praise on their awesome, dedicated workforce.  And they deftly avoid talking about the big problems, for which they have no solutions, by talking about strategic areas for potential growth ("green jobs"), and going over a laundry list of new initiatives that do nothing to solve any of the core problems.  When they are forced to talk about the core problems–and if the company is big enough to attract analyst coverage, they will rudely draw his attention to the problematic areas on the financial statements during the Q&A–he responds in vague generalities that restate the problem as if doing so constituted a solution. . . .
Go read the whole thing.
Speaking of lots of blowing air that does no good, wind power as "green energy" is, all things considered, pretty worthless. It is inconsistent, unreliable, unprofitable, and damaging to the environment. Windmills were nice for grinding grain, but farmers and millers always kept mules, horses, and young children around for all the times the wind didn't blow. Anyway, the Daily Bayonet has some of the latest wind power failures, including an administrative court ruling rejected Pacific Gas & Electric's proposal to buy a wind farm for $900 million:
In December 2009, PG&E agreed to buy and operate Iberdrola's 246 MW facility for about $900 million. It would have been the first wind farm to be owned by PG&E.

The December administrative law judge decision read in part, "We reject the application because we find that the Manzana Wind Project is not cost-competitive and poses unacceptable risks to ratepayers. We find that the proposed cost of the Manzana Wind Project is significantly higher than other resources PG&E can procure to meet its RPS program goal. Moreover, it will subject the ratepayers to unacceptable risks due to potential cost increases resulting from project under-performance, less than forecasted project life, and any delays which might occur concerning transmission upgrades and commercial online date. As a proposed utility-owned generation project, ratepayers would pay a lump sum cost rather than a performance based cost for the Manzana Wind Project. Therefore, ratepayers would be at risk if the project underperforms. In particular, if the Manzana Wind Project fails to achieve production as expected for any reason such as construction delays or curtailments as a result of a collision with a California condor, shareholders face no risks while customers could incur increased costs. In contrast, under a power purchase agreement, project owners rather than ratepayers bear the risk of project performance.
Funny what happens when actual economics of "green power" rather than noble intentions, political fads and good feelings are used to make a decision. The Daily Bayonet has additional coverage of another wind power economic fiasco up in Canada; be sure to read the whole thing.
Finally, courtesy of Sippican Cottage, comes this website that explores the wide gap between advertising creative types and real world people: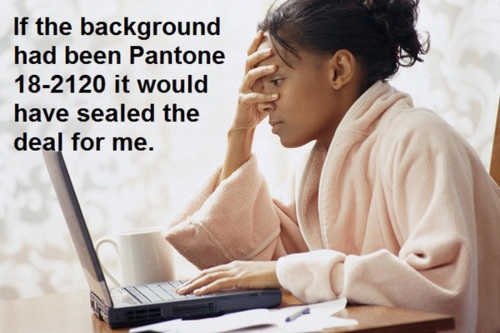 Quoth the raven: "Heh." ..bruce w..
Category: Business, Climate Change, Environment, Humor, Idiot Congresspersons, Litigation, Main, Obama Administration, Sea of deficits, US Politics
Webster is Principal and Founder at Bruce F. Webster & Associates, as well as an Adjunct Professor of Computer Science at Brigham Young University. He works with organizations to help them with troubled or failed information technology (IT) projects. He has also worked in several dozen legal cases as a consultant and as a testifying expert, both in the United States and Japan. He can be reached at bwebster@bfwa.com, or you can follow him on Twitter as @bfwebster.