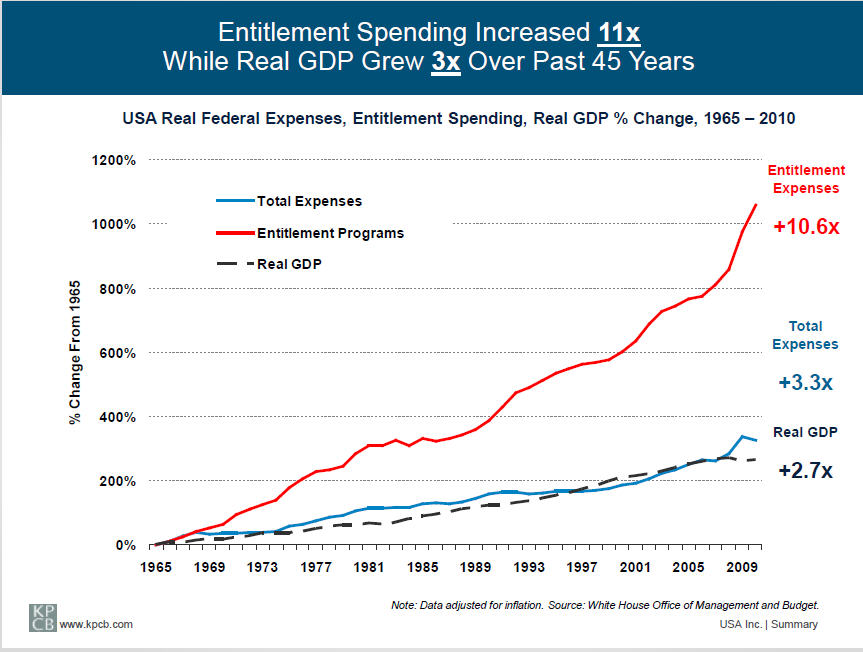 I'm going to continue to post graphs and slides from Kleiner Perkin's "USA, Inc." report for some time. Here's some of their text that accompanies this graph:
Take a step back, and imagine what the founding fathers would think if they saw how our country's finances have changed. From 1790 to 1930, government spending on average accounted for just 3% of American GDP. Today, government spending absorbs closer to 24% of GDP.

It's likely that they would be even more surprised by the debt we have taken on to pay for this expansion. As a percentage of GDP, the federal government's public debt has doubled over the last 30 years, to 53% of GDP. This figure does not include claims on future resources from underfunded entitlements and potential liabilities from Fannie Mae and Freddie Mac, the Government Sponsored Enterprises (GSEs). If it did include these claims, gross federal debt accounted for 94% of GDP in 2010. The public debt to GDP ratio is likely to triple to 146% over the next 20 years, per CBO. The main reason is entitlement expense. Since 1970, these costs have grown 5.5 times faster than GDP, while revenues have lagged, especially corporate tax revenues. By 2037, cumulative deficits from Social Security could add another $11.6 trillion to the public debt.
Yep. As the famous saying goes, the problem with socialism is that you eventually run out of other people's money. Read the whole report, if you haven't already. ..bruce w..
Category: 2012 Election, Obama Administration, Sea of deficits, US Politics, You Say You Want a Revolution?
Webster is Principal and Founder at Bruce F. Webster & Associates, as well as an Adjunct Professor of Computer Science at Brigham Young University. He works with organizations to help them with troubled or failed information technology (IT) projects. He has also worked in several dozen legal cases as a consultant and as a testifying expert, both in the United States and Japan. He can be reached at bwebster@bfwa.com, or you can follow him on Twitter as @bfwebster.