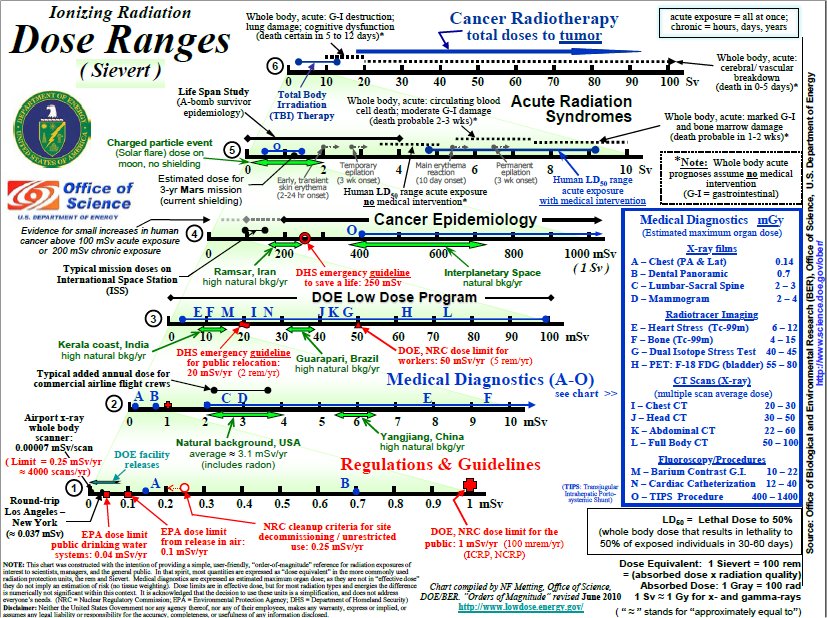 Click on the chart above to see it in full size. The smallest scale is the one at the bottom (labeled (1)). Each scale above that one represents 10x the range of the scale below it.
When you hear news reports about "detectable radiation that is above normally accepted limits" around the heavily damaged Fukushima Daiichi nuclear power complex in Japan, note that the "limits" all pretty much occur on scales 1 and 2. You have to get up to scale 4 (1000x the levels on scale 1) before you start seeing health problems.
This has been a public service messages.  ..bruce w..
Category: Disasters, Engineering, Environment, Japan, Main, Science
Webster is Principal and Founder at Bruce F. Webster & Associates, as well as an Adjunct Professor of Computer Science at Brigham Young University. He works with organizations to help them with troubled or failed information technology (IT) projects. He has also worked in several dozen legal cases as a consultant and as a testifying expert, both in the United States and Japan. He can be reached at bwebster@bfwa.com, or you can follow him on Twitter as @bfwebster.