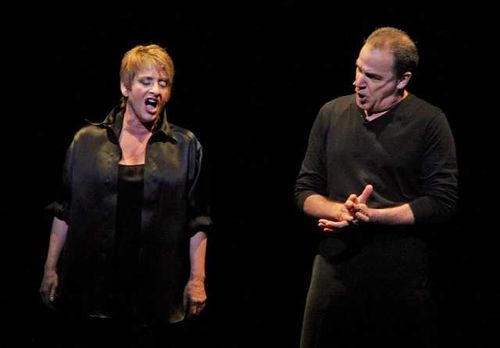 I fell in love with live theater back in college. My freshman year at BYU, I took a semester of Opera Workshop, a class whose purpose was to gather enough non-music majors with sufficient singing skills so as to fill up all the chorus positions in an opera production. We did a full production "Die Fledermaus" (it had a four-night run), and being an operetta, it also had (gasp!) speaking parts. For reasons unknown to me to this day, the director gave me one such part,  a throwaway comic bit at the very start of Act 3, where — as a loud drunk, one of three prisoners in a cell at the prison — I ask the jailer successively, "What day is it?", "What month?", "What year?", and in response to the third question, exclaim, "No wonder I'm hungry!"
What struck me at the time was the wide gap between the clever, witty, effective delivery of those lines I could hear in my head and what actually came out of my mouth. I gained in those four nights a great appreciation for the skills of true acting — and my lack thereof — and so did not pursue acting myself. However, I did subsequently take another class, Drama Appreciation, at least twice and maybe three or four times during my undergrad years. It was just a one-credit (or maybe 1/2-credit) class and had no classroom instruction. Instead, you attended several of the Theater department's productions during the semester, with a lecture ahead of each one. BYU had (and, I'm sure, still has) a tremendous Theater department, and the productions were outstanding.
It's a cliche, I know, but there is something visceral about watching a live performance on the stage. It is walking a tightrope with no safety net — no second (or nth) takes, no scene-by-scene splicing together, no reshoots or looping. The play starts and run inexorably to its end; the actors are together on the stage, with the audience mere feet from them. There is room for error and improvisation, which adds to the thrill of all involved, but — outside of a complete meltdown — there is no starting over or knocking off for the day. And I love it.
I'm out in NYC on business all this week, and I brought Sandra along. We're making it a "Broadway" trip. Tonight, we went to the Barrymore Theatre and saw a two-person show with Patti LuPore and Mandy Patinkin (above), performing bits and songs from a variety of shows, accompanied by a pianist and a bass player. It was great. There were imperfections, but that was part of the power and the draw of the show: four people, up there, live, for the better part of two hours, start to end. Tomorrow, we're going to see the revival of "Anything Goes", a Cole Porter review. Thursday, we hope to see a third show — most likely "Seminary", starring Alan Rickman, a play about writers and writing, a subject dear to my heart.
I am reminded again of the courage and skill it takes to step out on that stage. There's an apocryphal story that Henry Fonda, even after decades of acting, threw up before every live performance. We make fun of actors and mock them for their foibles, their tendency towards erratic or even self-destructive behavior, and their propensity to express their opinions on subjects they know nothing about. But, dear heavens above! the risk they take every time they are called on to act, especially in a live performance. And when they do it well, it's like magic.
Should be a good week.  ..bruce w..
Category: Main
Webster is Principal and Founder at Bruce F. Webster & Associates, as well as an Adjunct Professor of Computer Science at Brigham Young University. He works with organizations to help them with troubled or failed information technology (IT) projects. He has also worked in several dozen legal cases as a consultant and as a testifying expert, both in the United States and Japan. He can be reached at bwebster@bfwa.com, or you can follow him on Twitter as @bfwebster.