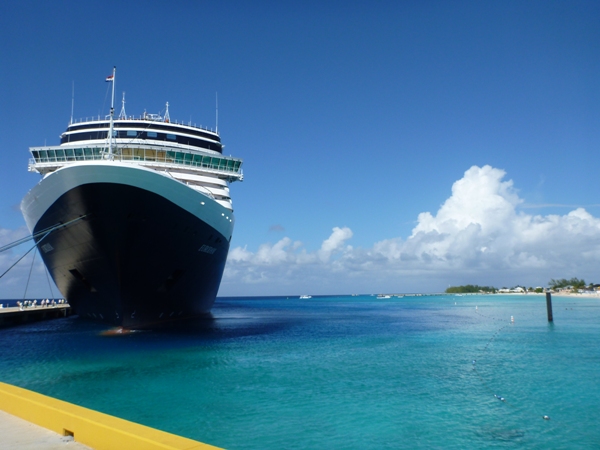 The internet is still flaky and slow (and will undoubtedly be so until we arrive back in Florida on Saturday). Another great day, which started with our ship arriving in port for the first time since leaving Florida on Saturday: Grand Turk, Turks and Caicos. This morning, Sandra & I went 'power snorkeling' (think: snorkeling with one of the James Bond-like pull-along electrical devices); Sandra just now turned to me (some 12 hours after the fact) and said, "That darker blue water right where we were snorkeling — that's the part that drops to 7000 feet, isn't it?" (Answer: yes.)
Jay Nordlinger conducted a wide-ranging interview with Mark Steyn, who was in fine form. It was followed by a panel on liberal media bias, run by John J. Miller and featuring John Fund, Cal Thomas, S. E. Cupp, and Jonah Goldberg.
At dinner tonight, we had the pleasure of having John O'Sullivan and his wonderful wife Melissa at our table, along with Milt & Sue Bird and Lou Dombro. Milt is almost 90 and looks better than most of us will hope to look at 70; Sue, whose family escaped from Nazi Germany in 1939 (after her father spent 6 months in a concentration camp) — and who remembers the day when she found all the windows smashed in her family's home on morning — is likewise lovely.
We're back at sea now, headed for San Juan, Puerto Rico, where we'll arrive tomorrow afternoon. ..bruce..
Category: 2012 Election, National Review Cruise, Obama Administration, Sea of deficits, US Politics, Western Civilization
Webster is Principal and Founder at Bruce F. Webster & Associates, as well as an Adjunct Professor of Computer Science at Brigham Young University. He works with organizations to help them with troubled or failed information technology (IT) projects. He has also worked in several dozen legal cases as a consultant and as a testifying expert, both in the United States and Japan. He can be reached at bwebster@bfwa.com, or you can follow him on Twitter as @bfwebster.