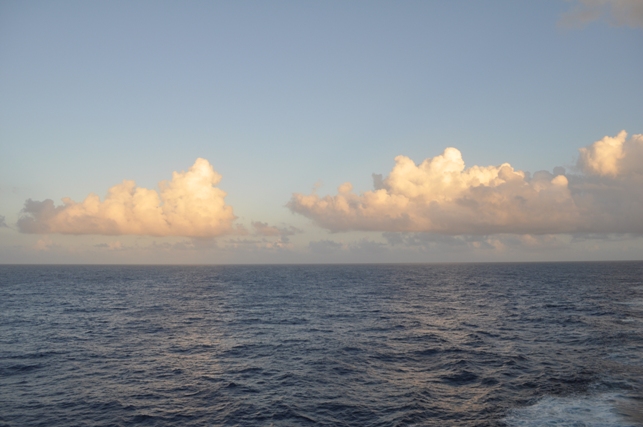 Next-to-the-last day of the cruise. Spent the whole day at sea today, on our way from St. Thomas to the Bahamas, sailing past and north of our previous stops at Puerto Rico and Grand Turk. This meant more panels and activities today, and some great panels they were, including one on the realities of political leadership with former Governor John Sununu, former Governor Tim Pawlenty, former Senator Fred Thompson, and Tony Blankley. Had the chance at lunch, at dinner, and at receptions to spend time talking with Jim Geraghty, Victor Davis Hanson, John Yoo, Andrew Klavan, Fred Thompson, Rich Lowry, and John J. Miller. The whole day was capped off with an absolutely hilarious late night session with Mark Steyn, Jonah Goldberg, and Roman Genn.
The big discussion through the cruise has been and remains: which candidate for the Republicans? No one among the speakers seems terribly happy with any of the candidates, though a few of the big-name speakers (Sununu, Pawlenty) have formally endorsed Romney. The real concern is that, in spite of truly wretched prolonged economic conditions, Obama could be re-elected anyway — and that if that happens, we just won't be able to avoid a true financial collapse of some sort. It's not at all clear we can avoid it even if Obama is defeated.
Rough seas ahead, folks.  ..bruce w..
Category: 2012 Election, Main, National Review Cruise, Obama Administration, Sea of deficits
Webster is Principal and Founder at Bruce F. Webster & Associates, as well as an Adjunct Professor of Computer Science at Brigham Young University. He works with organizations to help them with troubled or failed information technology (IT) projects. He has also worked in several dozen legal cases as a consultant and as a testifying expert, both in the United States and Japan. He can be reached at bwebster@bfwa.com, or you can follow him on Twitter as @bfwebster.