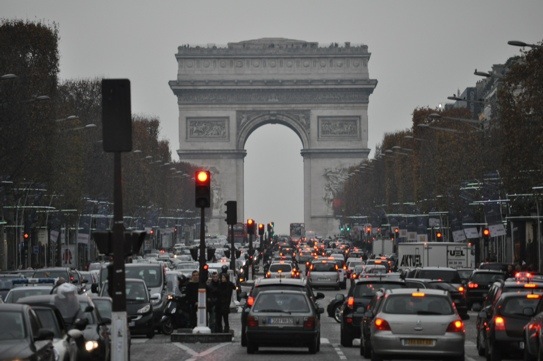 I did indeed crash. Probably just as well, since it appeared to have been raining durng the afternoon, which pretty much ruled out putting up the new signs, etc. Instead, once I was sufficiently conscious, Sandra and I headed down to the Christmas Market on the lower part of the Champs-Elysees, both to grab something to eat — a room service hamburger here at the hotel costs about US$30 — and to finish up some Christmas/grandkids shopping.
Once again, both the upscale retail section of the Champs-Elysees as well as the (temporary) Christmas Market section were absolutely jammed, so the Eurocrisis doesn't seem to have damped anyone's enthusiasm for going out. How actual sales are, I have no idea — but a lot of people in the upscale retail section were carrying purchase bags from the various stores.
True fact: the Abercrombie & Fitch store on the Champs-Elysees actually had a roped waiting line for getting in.
So, what's my takeaway from a weekend in France? I keep thinking back to what Thomas, one of the Parisians I interviewed, said to me at the start of our conversation: it's like running along on a flat area, and then you suddenly come to a cliff, and bam! you fall down. The image that came to me, with my own cultural heritage, was of Wiley E. Coyote, running off a cliff and actually going some ways over empty space. Then he suddenly realizes there's nothing below him, looks to the camera, waves goodbye, and plummets to the gorund. (In fact, I think that this clip sums up Europe's situation very well.) That is what I suspect will happen to the Eurozone, and possbly to the EU as well. ..bruce w..
Category: Economics, Eurocrisis, France, Geopolitics, Main
Webster is Principal and Founder at Bruce F. Webster & Associates, as well as an Adjunct Professor of Computer Science at Brigham Young University. He works with organizations to help them with troubled or failed information technology (IT) projects. He has also worked in several dozen legal cases as a consultant and as a testifying expert, both in the United States and Japan. He can be reached at bwebster@bfwa.com, or you can follow him on Twitter as @bfwebster.