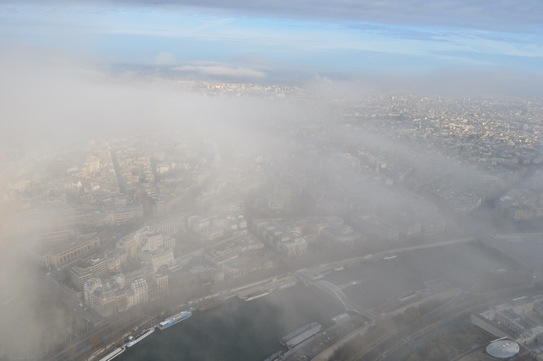 France's future is cloudy.
OK, OK, cheap symbolism, but that's the best kind, for reasons that I'll come with eventually. Meanwhile, in case you're wondering about the strange post name, "Tour Eiffel" is French for "Eiffel Tower", and yes, we went on a tour of the Eiffel Tower this morning. We had gone last year (just standing in line, not as part of a tour), but it was cloudy, and so I couldn't get clear photos of Paris. We had high hopes this morning — it was sunny and clear when we left the hotel, and still sunny when we started the tour at the Tower, but by the time we got to the top — well, you can see. All very symbolic.
I asked Hailey — our chipper and informative tour guide from the Maritime Provinces who has been here since last summer — what she thought about the Eurocrisis, and she frankly admitted to knowning almost nothing about it. On the other hand, she has a country to go back to that is frankly in better economic and political shape that most of the rest of the world, so why should she care?
Meanwhile, it was very, very cold and a bit windy to boot up on the Tour Eiffel. I don't get cold easily, but I've been back here in the hotel room for 30 minutes or so, and I'm still a bit chilled. I'm also falling asleep and have to decide whether I want to take a nap or (cue Popeye-eating-spinach music) take a bottle of 5 Hour Energy. In either case, I'm going to have to warm up before I can decide whether to go stand out in the cold again in hopes to getting to interview a few more folks. .bruce w..
Category: Economics, Eurocrisis, France, Geopolitics, Main, Recession Watch, Sea of deficits
Webster is Principal and Founder at Bruce F. Webster & Associates, as well as an Adjunct Professor of Computer Science at Brigham Young University. He works with organizations to help them with troubled or failed information technology (IT) projects. He has also worked in several dozen legal cases as a consultant and as a testifying expert, both in the United States and Japan. He can be reached at bwebster@bfwa.com, or you can follow him on Twitter as @bfwebster.